AGENTS OF SHIELD Season 7 Episode 4 "Out of the Past" Photos
BY

Jennifer Griffin

Published 1 year ago
Agents of SHIELD Episode 7×04 "Out of the Past"
HISTORY COMES BACK TO HAUNT THE TEAM
It was just another average morning on July 22, 1955, when Agent Phil Coulson realized the importance of that day in the S.H.I.E.L.D. history books.
With a chip on his shoulder and a genre-bending glitch in his system, he'd set into motion a chain of events that would hopefully preserve the timeline as we know it and ensure those pesky chronicoms get the ending they deserve.
What could go wrong?
Marvel's Agents of S.H.I.E.L.D. stars Clark Gregg as Agent Phil Coulson, Ming-Na Wen as Agent Melinda May, Chloe Bennet as Daisy Johnson, Elizabeth Henstridge as Agent Jemma Simmons, Iain De Caestecker as Agent Leopold Fitz, Henry Simmons as Director Alphonso "Mack" MacKenzie, Natalia Cordova-Buckley as Elena "Yo-Yo" Rodriguez and Jeff Ward as Deke Shaw.
Guest starring is Joel Stoffer, Tobias Jelinek, Neal Bledsoe, Larry Clarke and Enver Gjokaj.
"Out of The Past" was written by Mark Leitner and directed by Garry A. Brown.
Air Date: Wednesday, June 17 (10:00–11:00 p.m. EDT), on ABC.
151992_3619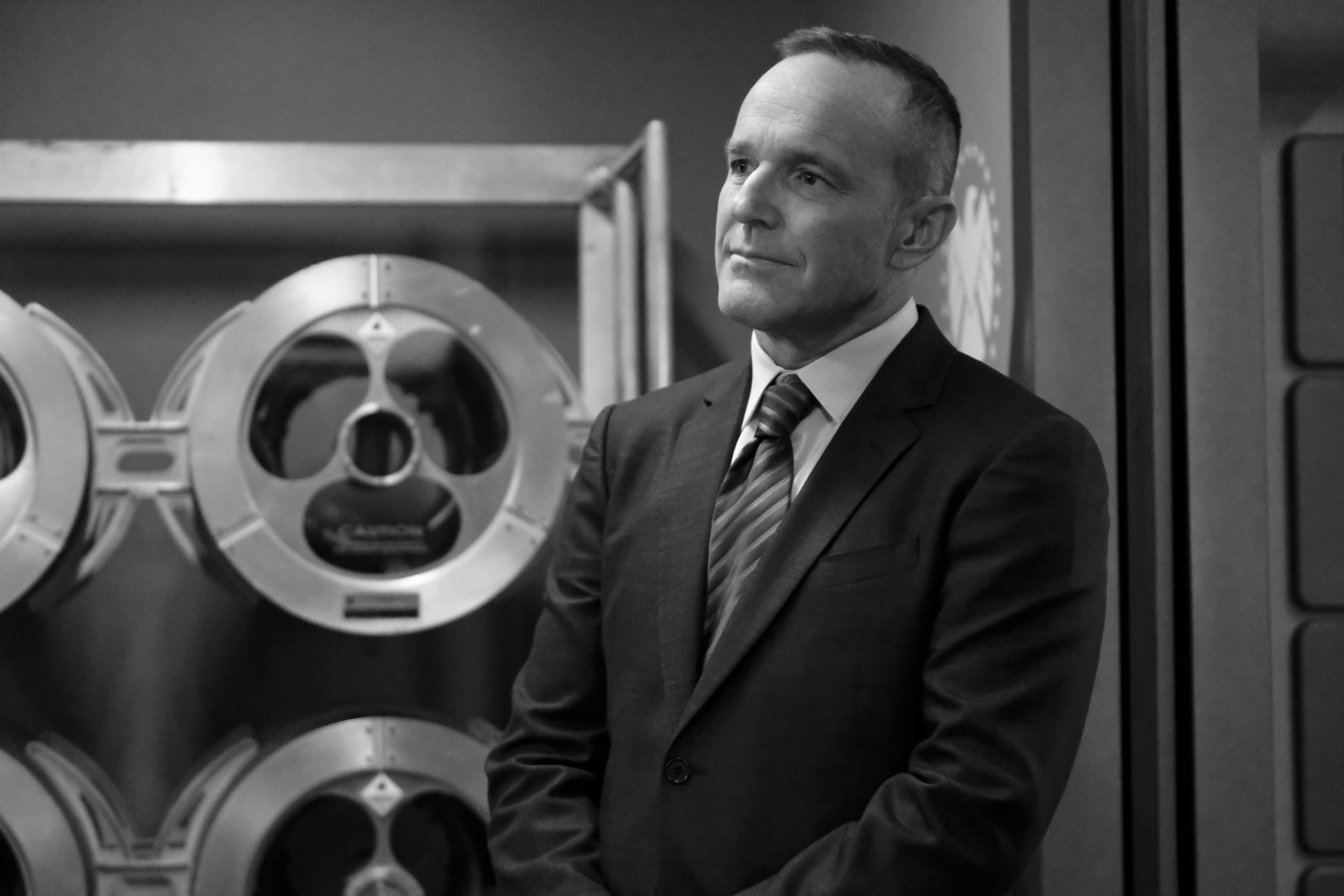 Picture 2 of 4
MARVEL'S AGENTS OF S.H.I.E.L.D. - "Out of the Past" - It was just another average morning on July 22, 1955, when Agent Phil Coulson realized the importance of that day in the S.H.I.E.L.D. history books. With a chip on his shoulder and a genre-bending glitch in his system, he'd set into motion a chain of events that would hopefully preserve the timeline as we know it and ensure those pesky chronicoms get the ending they deserve. What could go wrong? To find out, tune in to "Marvel's Agents of S.H.I.E.L.D.," WEDNESDAY, JUNE 17 (10:00 - 11:00 p.m. EDT), on ABC. - (ABC/Jessica Brooks)CLARK GREGG
AGENTS OF SHIELD Season 7 Episode 5 "A Trout in the Milk" Photos
READ NEXT