Don't Miss
// SC: Addition start ?> // SC: Addition end ?>
//SC: Additions start ?> //SC: Additions end ?>
AGENTS OF SHIELD 4×04 Photos "Let Me Stand Next to Your Fire"
GHOST RIDER AND S.H.I.E.L.D. GO HEAD-TO-HEAD, ON 'MARVEL'S AGENTS OF S.H.I.E.L.D.,'
As Ghost Rider's quest for vengeance brings him into an explosive confrontation with S.H.I.E.L.D., Coulson and Mack must rely on an unlikely ally in their time of desperate need; and Daisy reunites with a familiar face to stop the Watchdogs.
Marvel's Agents of S.H.I.E.L.D. stars Clark Gregg as Agent Phil Coulson, Ming-Na Wen as Agent Melinda May, Chloe Bennet as Daisy Johnson, Iain De Caestecker as Agent Leo Fitz, Elizabeth Henstridge as Agent Jemma Simmons and Henry Simmons as Agent Alphonso "Mack" MacKenzie.
Guest starring are John Hannah as Holden Radcliffe, Gabriel Luna as Robbie Reyes, Mallory Jansen as Aida, Axle Whitehead as James, Jose Zuniga as Eli Morrow, Kerr Smith as Joseph, Phil Tyler as watchdog #1, Sergio Enrique as guard, Tanner Fontana as Elliot and Lilli Birdsell as Lucy.
"Let Me Stand Next to Your Fire" was written by Matt Owens and directed by Brad Turner.
MARVEL'S AGENTS OF S.H.I.E.L.D. - "Let Me Stand Next to Your Fire"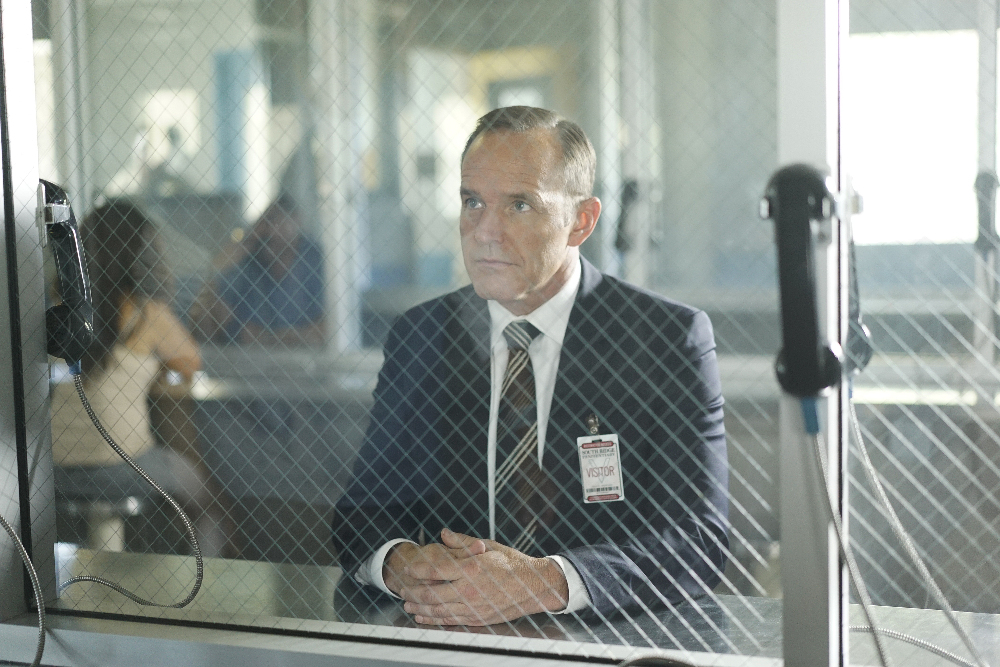 Picture 1 of 11
MARVEL'S AGENTS OF S.H.I.E.L.D. - "Let Me Stand Next to Your Fire" - As Ghost Rider's quest for vengeance brings him into an explosive confrontation with S.H.I.E.L.D., Coulson and Mack must rely on an unlikely ally in their time of desperate need; and Daisy reunites with a familiar face to stop the Watchdogs, on "Marvel's Agents of S.H.I.E.L.D.," TUESDAY, OCTOBER 18 (10:00-11:00 p.m. EDT), on the ABC Television Network. (ABC/Jennifer Clasen)CLARK GREGG
Hottest Stories from Around the Web