Don't Miss
// SC: Addition start ?> // SC: Addition end ?>
//SC: Additions start ?> //SC: Additions end ?>
DESIGNATED SURVIVOR 1×04 "The Enemy" Photos
THE GROUP BEHIND THE CAPITOL ATTACK IS LOCATED
Kirkman learns who is behind the attack and needs to grapple not only with the prospect of war, but brewing domestic troubles as well.
Kirkman taps Emily to monitor the domestic situation, while Alex may be in for more than she bargains for when she seeks out help from Hookstraten.
Designated Survivor stars Kiefer Sutherland as Tom Kirkman, Natascha McElhone as Alex Kirkman, Adan Canto as Aaron Shore, Italia Ricci as Emily Rhodes, LaMonica Garrett as Mike Ritter with Kal Penn as Seth Wright and Maggie Q as Hannah Wells.
Guest starring are Virginia Madsen as Congresswoman Kimble Hookstraten and Kevin R. McNally as Harris Cochran.
"The Enemy" was written by Dana Ledoux Miller & Jon Harmon Feldman.
Paul Edwards is the director.
Air Date: Wednesday Oct. 12(10:00—11:00 p.m. EDT) on ABC.
DESIGNATED SURVIVOR - "The Enemy"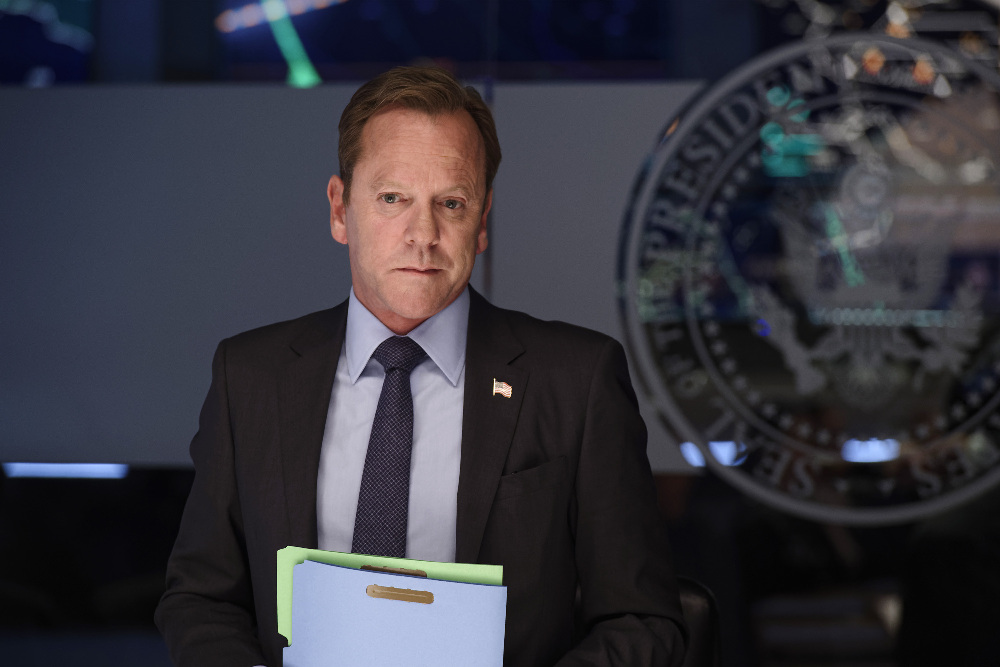 Picture 1 of 40
DESIGNATED SURVIVOR - "The Enemy" - Kirkman learns who is behind the attack and needs to grapple not only with the prospect of war, but brewing domestic troubles as well. Kirkman taps Emily to monitor the domestic situation, while Alex may be in for more than she bargains for when she seeks out help from Hookstraten, on ABC's "Designated Survivor," WEDNESDAY, OCTOBER 12 (10:00-11:00 p.m. EDT). (ABC/Ben Mark Holzberg)KIEFER SUTHERLAND
Hottest Stories from Around the Web