Don't Miss
// SC: Addition start ?> // SC: Addition end ?>
//SC: Additions start ?> //SC: Additions end ?>
HOW TO GET AWAY WITH MURDER 5×02 "Whose Blood is That?" Photos
ANNALISE ADJUSTS TO HER NEW LIFE, WHILE FRANK IS PERSISTENT IN UNCOVERING THE TRUTH ABOUT THE NEW KID, GABRIEL MADDOX
Episode 5×02 "Whose Blood Is That?" – Annalise preps to defend her first class action plaintiff and adjusts to the politics of the new job.
Meanwhile, Frank is suspicious of Gabriel and does some investigating of his own, and Asher complicates Bonnie's new life away from Annalise.
How to Get Away with Murder stars Academy Award®-winner Viola Davis as Professor Annalise Keating, Billy Brown as Detective Nate Lahey, Jack Falahee as Connor Walsh, Aja Naomi King as Michaela Pratt, Matt McGorry as Asher Millstone, Karla Souza as Laurel Castillo, Charlie Weber as Frank Delfino, Liza Weil as Bonnie Winterbottom, Conrad Ricamora as Oliver Hampton, Rome Flynn as Gabriel Maddox, Amirah Vann as Tegan Price and Timothy Hutton as Emmett Crawford.
Guest starring is John Hensley as interim D.A. Ronald Miller, Tamberla Perry as Theresa Hoff, Jessica Marie Garcia as Rhonda Navarro, Ramona DuBarry as Nanda Hashim, Kevin Linell as clerk, Matt Orduna as Mitch Donaldson, James Allen McCune as Josh Bathurst, Corey Clifford as Hannah Bathurst, Deborah Geffner as Jillian, Molly Hagan as A.D.A. Nancy Montoya, Stephen D'Angelo as mover, Karl T. Wright as Judge Bradford Wilkins, David Chan as Kyle and Rachae Thomas as Liz. "Whose Blood Is That?" was written by Sarah L. Thompson and directed by Mike Smith.
Air Date: Thursday, Oct. 4 (10:00-11:00 p.m. EDT), on ABC.
150063_7773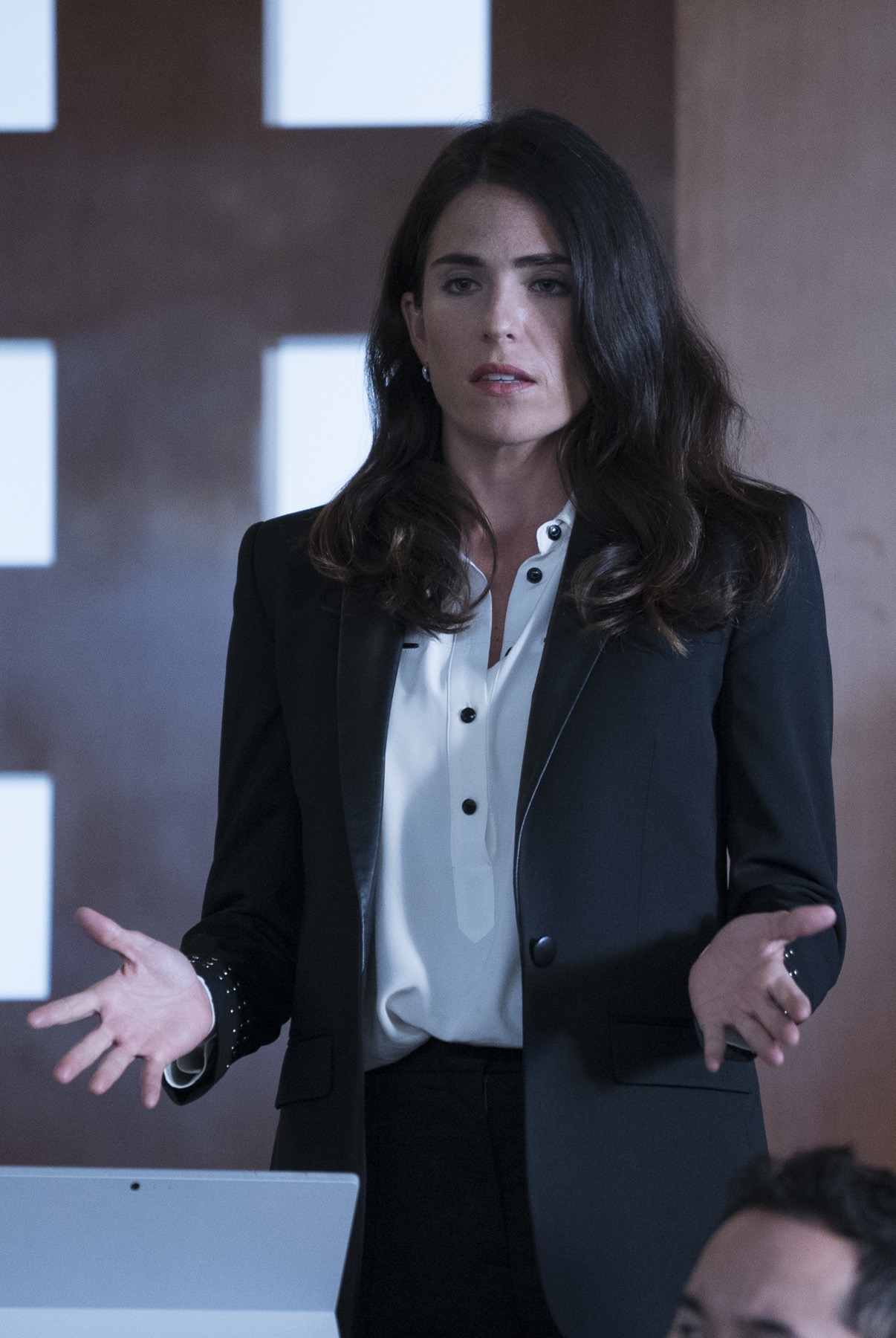 Picture 1 of 10
HOW TO GET AWAY WITH MURDER - "Whose Blood Is That?" - Annalise preps to defend her first class action plaintiff and adjusts to the politics of the new job. Meanwhile, Frank is suspicious of Gabriel and does some investigating of his own, and Asher complicates Bonnie's new life away from Annalise, on "How to Get Away with Murder," THURSDAY, OCT. 4 (10:00-11:00 p.m. EDT), on The ABC Television Network. (ABC/Richard Cartwright) KARLA SOUZA
Hottest Stories from Around the Web