Don't Miss
// SC: Addition start ?> // SC: Addition end ?>
//SC: Additions start ?> //SC: Additions end ?>
THE GIFTED 2×04 "OutMatched" Photos
// SC: Addition start ?> // SC: Addition end ?>
THE INNER CIRCLE IS ON THE MOVE
Episode 2×04 "OutMatched" — The Struckers, minus Andy, begin to rebuild their broken trust, while Thunderbird, Blink and Eclipse visit Wire, hoping to convince him to help again.
But when they get there, they learn that something terrible has happened from Wire's brother, Graph (guest star Adam David Thompson).
The team discovers that the Inner Circle is on the way to raid a mutant detention facility, so they make moves to try to intercept them.
Meanwhile, Jace is contacted by a member of the Purifiers.
Cast: Stephen Moyer as Reed Strucker; Amy Acker as Caitlin Strucker; Sean Teale as Eclipse/Marcos Diaz; Jamie Chung as Blink/Clarice Fong aka Clarice Ferguson; Coby Bell as Jace Turner; Emma Dumont as Polaris/Lorna Dane; Blair Redford as Thunderbird/John Proudstar; Natalie Alyn Lind as Lauren Strucker; Percy Hynes White as Andy Strucker; Skyler Samuels as Frost Sisters/Esme, Sophie and Phoebe; Grace Byers as Reeva Payge.
Guest Cast: Adam David Thompson as Graph, Tom O'Keefe as Officer Wilson, Vince Pisani as Dr. Kelsey and Frances Turner as Paula Turner.
Air Date: Tuesday, Oct. 16 (8:00-9:00 PM ET/PT) on FOX.
THE GIFTED: L-R: Blair Redford, Jamie Chung and Sean Teale in the "outMatched" episode of THE GIFTED airing Tuesday, Oct. 16 (8:00-9:00 PM ET/PT) on FOX. ©2018 Fox Broadcasting Co. Cr: Guy D'Alema/FOX.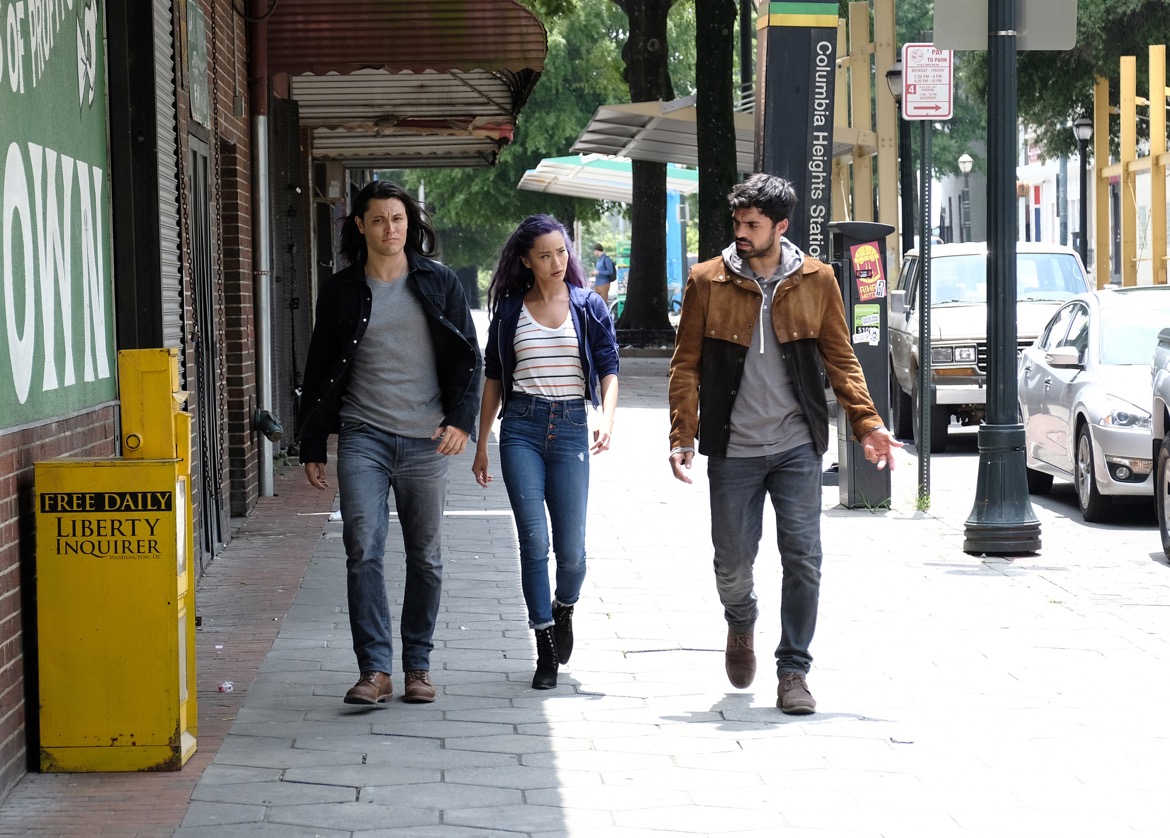 Hottest Stories from Around the Web