Don't Miss
// SC: Addition start ?> // SC: Addition end ?>
//SC: Additions start ?> //SC: Additions end ?>
THE ORVILLE 1.02 Photos "Command Performance"
THE ORVILLE EPISODE 1.02 "COMMAND PERFORMANCE"
ALARA MUST TAKE FIRST COMMAND
Jeffrey Tambor ("Transparent") and Holland Taylor ("Two and a Half Men") Guest-Star
When Ed and Kelly are tricked by a hologram of a ship in distress and find themselves prisoners in a replica of their former home, Alara must step up in her first command of the Orville and attempt a heroic rescue.
Meanwhile, Bortus and Klyden receive some happy, yet unexpected news.
Cast: Seth MacFarlane as Captain Ed Mercer; Adrianne Palicki as Commander Kelly Grayson; Penny Johnson Jerald as Dr. Claire Finn; Scott Grimes as Lieutenant Gordon Malloy; Peter Macon as Lieutenant Commander Bortus; Halston Sage as Chief Security Officer Alara Kitan; J Lee as Lieutenant John Lamarr; Mark Jackson as Isaac; and Chad L. Coleman as Klyden
Guest Cast: Jeffrey Tambor as Bert Mercer, Holland Taylor as Jeannie Mercer, Norm Macdonald as Yaphit, Larry Joe Campbell as Steve Newton, Mike Gray as Ensign Parker, Glenn Morshower as Admiral Tucker, JD Cullum as the Calivon Zoo Administrator.
Air Date: Special Series Premiere, Part 2 Sunday, Sept. 17 ( 8:00-9:00 PM ET/PT immediately following NFL on FOX Doubleheader
Note: The Orville makes its time Period premiere Thursday, Sept. 21 @ 9/8c on FOX.
THE ORVILLE: "Command Performance"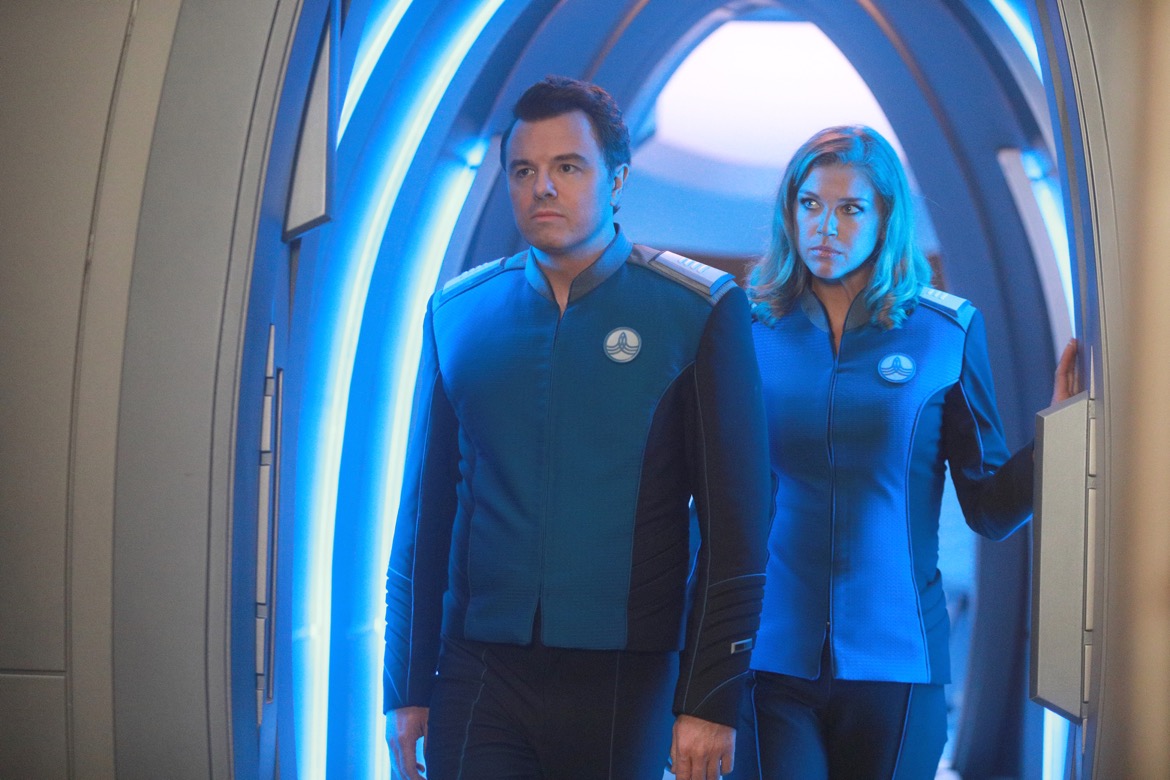 Picture 1 of 9
THE ORVILLE: L-R: Seth MacFarlane and Adrianne Palicki in the "Command Performance" episode of THE ORVILLE, the second part of the two-night special series premiere airing Sunday, Sept. 17 (8:00-9:00 PM ET LIVE to all Time Zones), immediately following the NFL Doubleheader on FOX. ©2017 Fox Broadcasting Co. Cr: Michael Becker/FOX
Hottest Stories from Around the Web