Don't Miss
// SC: Addition start ?> // SC: Addition end ?>
//SC: Additions start ?> //SC: Additions end ?>
AGENTS OF SHIELD 3×12 PHOTOS: "The Inside Man"
// SC: Addition start ?> // SC: Addition end ?>
Coulson is about to come face to face with a shocking traitor on ABC's Marvel's Agents of SHIELD, teases ABC in its latest press release.
Airing March 15, "The Inside Man" will see Coulson and General Talbot (recurring guest star Adrian Pasdar) forced to team up and attend a worldwide symposium on Inhumans, where they suspect Malick has an inside man.
However, as the S.H.I.E.L.D. team gets closer to the truth, an unexpected traitor is revealed.
You can catch "The Inside Man" Tuesday March 15 (9:00-10:00 p.m. EDT) on ABC.
We've got a collection of just-released photos from the episode to share in our gallery below.
Follow @ScreenSpy on Twitter | ScreenSpy on Facebook for more Agents of SHIELD scoop.
The series stars Clark Gregg as Director Phil Coulson, Ming-Na Wen as Agent Melinda May, Brett Dalton as Grant Ward, Chloe Bennet as Agent Daisy Johnson, Iain De Caestecker as Agent Leo Fitz, Elizabeth Henstridge as Agent Jemma Simmons, Nick Blood as Agent Lance Hunter, Adrianne Palicki as Agent Bobbi Morse, Henry Simmons as Agent Alphonso "Mack" MacKenzie and Luke Mitchell as Lincoln Campbell.
Guest starring in "The Inside Man" are Powers Booth as Gideon Malick, Mark Dacascos as Giyera, Adrian Pasdar as Brigadier General Glenn Talbot, Raquel Gardner as Carla Talbot, Brian Patrick Wade as Carl Creel, Ravil Isyanov as Anton Petrov, Melissa Bickerton as Ellen King, Bayo Akinfemi as Nathi Zuma, Alexandra Chun as Xiao Chen, Tohoru Masamune as Haruto Yakimura and Gabriel Salvador as Lucio.
MARVEL'S AGENTS OF S.H.I.E.L.D. - "The Inside Man"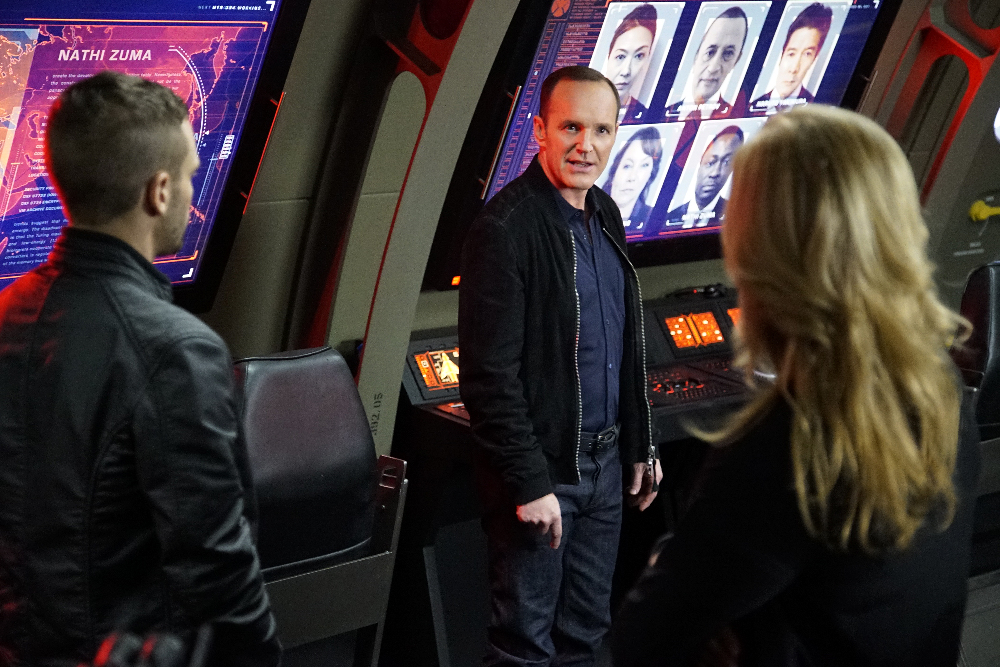 Picture 1 of 21
MARVEL'S AGENTS OF S.H.I.E.L.D. - "The Inside Man" - Coulson and General Talbot are forced to team up and attend a worldwide symposium on Inhumans, where they suspect Malick has an inside man. As the S.H.I.E.L.D. team gets closer to the truth, an unexpected traitor is revealed, on "Marvel's Agents of S.H.I.E.L.D.," TUESDAY, MARCH 15 (9:00-10:00 p.m. EDT) on the ABC Television Network. (ABC/Kelsey McNeal)CLARK GREGG
Hottest Stories from Around the Web