Don't Miss
// SC: Addition start ?> // SC: Addition end ?>
//SC: Additions start ?> //SC: Additions end ?>
SUPERNATURAL 11×07 IMAGES: "Plush"
// SC: Addition start ?> // SC: Addition end ?>
Sheriff Donna makes a return in Supernatural's Nov. 18 installment.
The CW teases that in "Plush" Sheriff Donna (guest star Briana Buckmaster) calls Sam (Jared Padalecki) and Dean (Jensen Ackles) for help after a horrific murder with supernatural elements happens in her town.
Meanwhile, Sam continues to have visions and asks God for help, which frustrates Dean.
Tim Andrew directed the episode written by Eric Charmleo & Nicole Snyder.
It airs Nov. 18 on the CW.
Just-released images from "Plush" follow below.
Follow @ScreenSpy on Twitter | ScreenSpy on Facebook for more Supernatural scoop.
SUPERNATURAL: "Plush"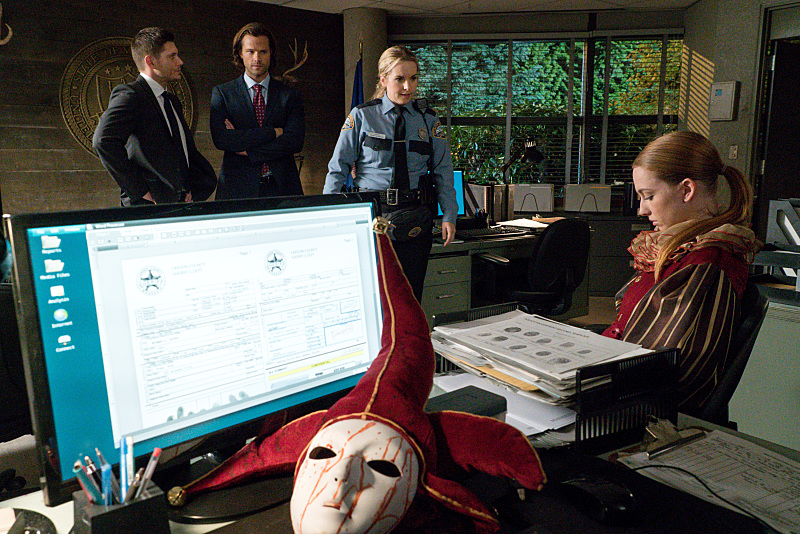 Picture 2 of 11
Supernatural -- "Plush" -- Image SN1107B_0178. jpg -- Pictured (L-R): Jensen Ackles as Dean, Jared Padalecki as Sam, Briana Buckmaster as Sheriff Hanscum and Cate Sproule as Court Jester/Michelle -- Photo: Liane Hentscher/The CW -- © 2015 The CW Network, LLC. All Rights Reserved.
Hottest Stories from Around the Web