Episode 1×03 "Code of the Hawaladar"
Danny poses as arms dealer Aiden Shaw in order to extract information on the location of terrorist Karim Farouk from a middleman who owes Shaw money.
Also, Farouk obtains a clue to the location of the sarcophagus of Cleopatra, and Lexi bonds with Father Chuck when she seeks his help to decipher encoded information.
Cast: Matt Barr (Danny McNamara), Sofia Pernas (Lexi Vaziri), Michael James Shaw (Aiden Shaw), Katia Winter (Gwen Karlsson), James Callis (Simon Hardwick), Oded Fehr (Karim Farouk), Alicia Coppola (Dr. Anna Castillo), Mark Gagliardi (Father Chuck).
Recurring Cast: Antonio Cupo (Captain Fabi), Tony Nash (Omar), Patrick Sabongui (Asim Masood), Stephen Bogaert (Col. Krug).
Guest Cast: David Paetkau (Army Captain), Jeremie Jacob (MP), Jean-Alexander Letourneau (French Uniformed Police Tech), Amin Bhatia (Hawaladar Banker), Fajer Al-Kaisi (Marwan), Shadi Janho (Khalid), Hazgary Colin (Quint), Marco Zingaro (Sentry), Christopher Vanni Ranno (Nasty Teenager).
Written by Taylor Elmore.
Directed by Alrick Riley.
Air Date: Tuesday, May 28 (10:00-11:00 PM, ET/PT) on the CBS Television Network.
BLOOD & TREASURE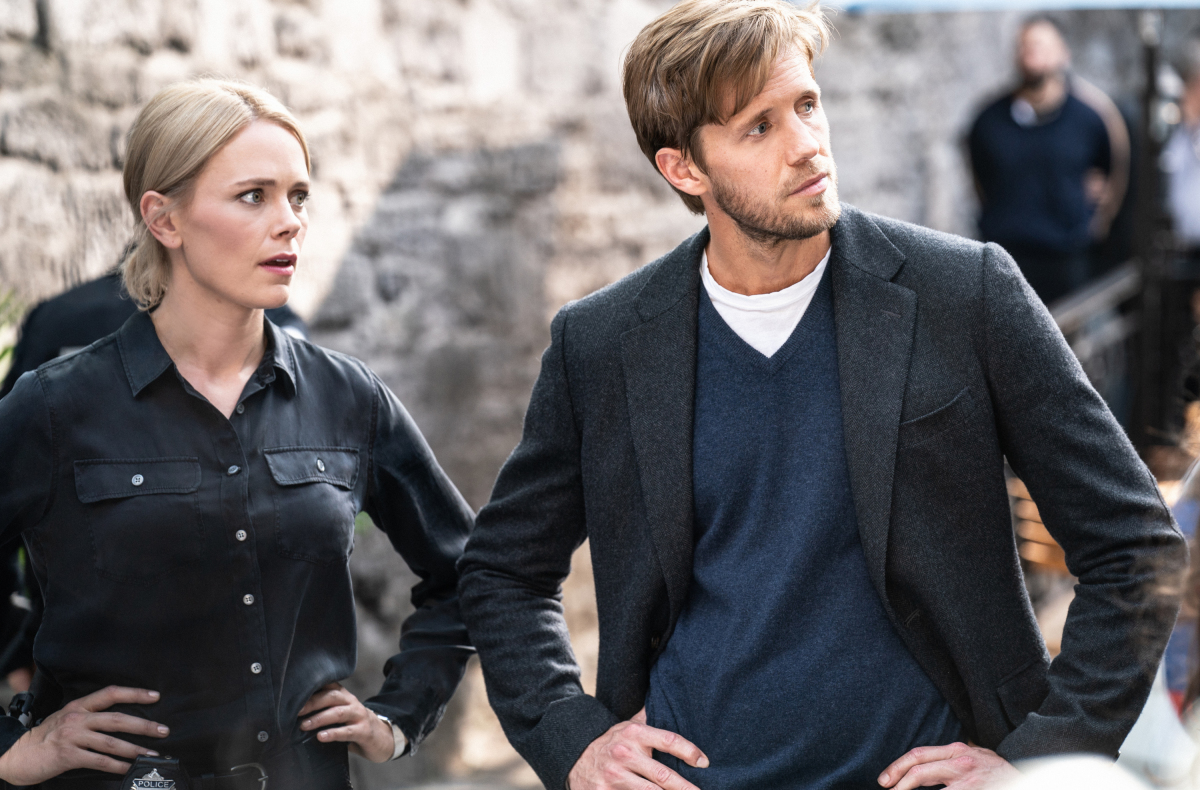 Picture 1 of 42
"Code of the Hawaladar" -- Danny poses as arms dealer Aiden Shaw in order to extract information on the location of terrorist Karim Farouk from a middleman who owes Shaw money. Also, Farouk obtains a clue to the location of the sarcophagus of Cleopatra, and Lexi bonds with Father Chuck when she seeks his help to decipher encoded information, on BLOOD & TREASURE, Tuesday, May 28 (10:00-11:00 PM, ET/PT) on the CBS Television Network. Pictured (L-R) Katia Winter as Gwen Karlsson and Matt Barr as Danny McNamara Photo: Jonathan Wenk/CBS ©2018 CBS Broadcasting, Inc. All Rights Reserved