Ethan discovers the truth about Wayward Pines in June 11's installment.
In "The Truth," Ethan finally ventures outside of the town of Wayward Pines where he makes a shocking discovery.
Meanwhile, Theresa reports to her new realty job and meets her first client who is as confused as Theresa about the eerie town and Ben goes through orientation and learns the truth about Wayward Pines from his teacher Megan Fisher (guest star Hope Davis).
Catch first look images from Ben's creepy Orientation below.
The "The Truth" episode of Wayward Pines airs Thursday, June 11 (9:00-10:00 PM ET/PT) on FOX.
Follow @ScreenSpy on Twitter | ScreenSpy on Facebook for more Wayward Pines scoop and interviews.
Wayward Pines stars Matt Dillon as Ethan Burke; Melissa Leo as Nurse Pam; Carla Gugino as Kate Hewson Ballinger; Toby Jones as Dr. Jenkins; Terrence Howard as Sheriff Pope; Juliette Lewis as Beverly; Shannyn Sossamon as Theresa Burke; Tim Griffin as Adam Hassler; Charlie Tahan as Ben Burke; Reed Diamond as Harold Ballinger.
Guest cast includes Sarah Jeffery as Amy; Hope Davis as Megan Fisher; Scott Michael Campbell as Wayne Johnson; Sarah Desjardins as Carrie; Samuel Patrick Chu as Reed, and Michael McShane as Big Bill.
WAYWARD PINES: "The Truth"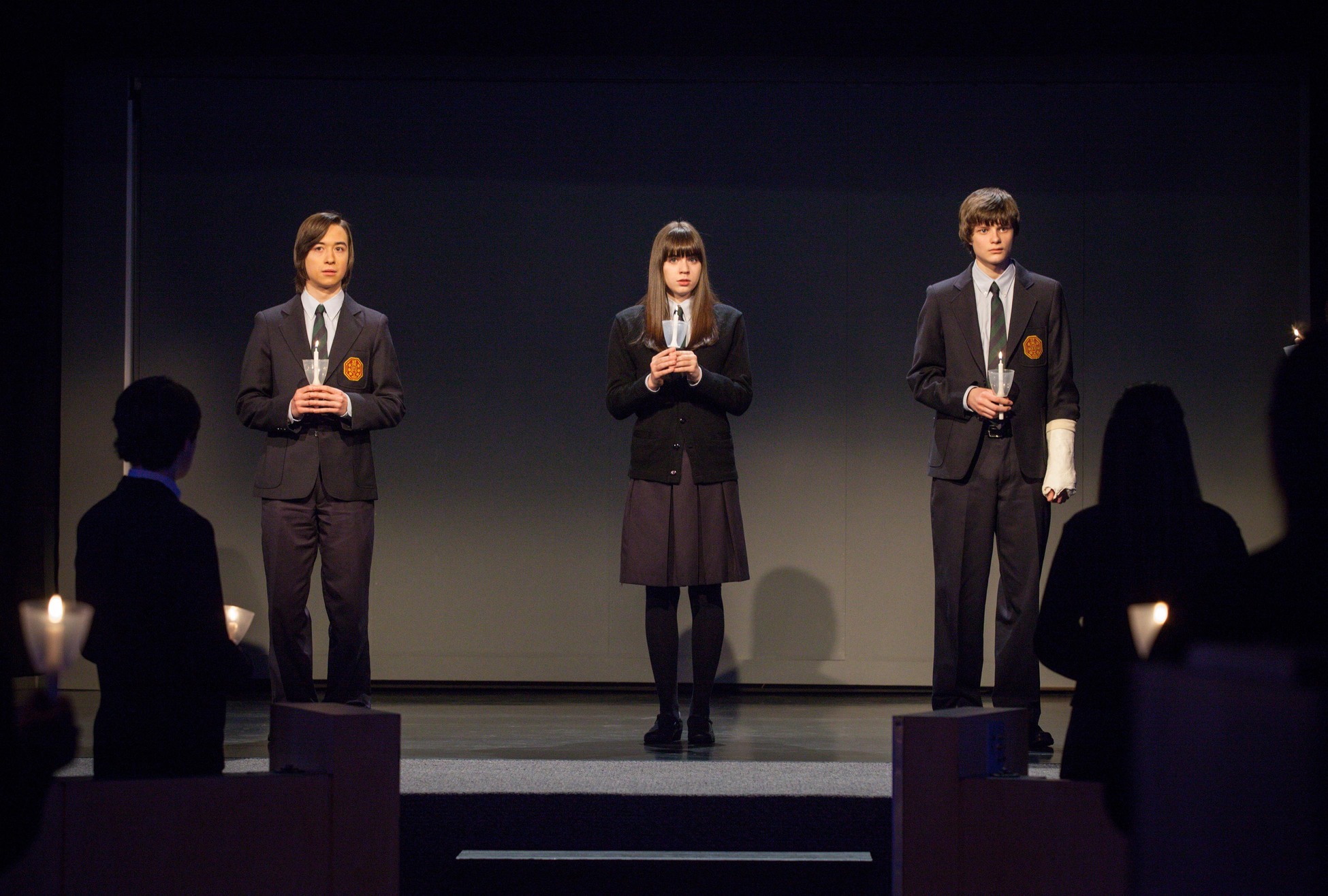 Picture 1 of 8
WAYWARD PINES: Ben (Charlie Tahan, R) and two other Wayward Pines Academy students (L-R: guest stars Samuel Patrick Chu and Sarah Desjardins) participate in a special school ceremony in the "The Truth" episode of WAYWARD PINES airing Thursday, June 11 (9:00-10:00 PM ET/PT) on FOX. ©2015 Fox Broadcasting Co. Cr: Liane Hentscher/FOX