Sherlock fans, we've got 63 images to share from 'The Abominable Bride,' the show's special Victorian era installment airing on New Year's Day on BBC1 in the UK.
The 90-minute special will also simultaneously premiere January 1, on Masterpiece Mystery! on PBS at 9:00pm ET in the US, and simultaneously online at pbs.org/masterpiece. The special will have an encore broadcast on Sunday, January 10, at 10:00pm ET.
Notably, this is the first time that Sherlock has premiered in the US and the UK on the same day.
You can catch our full gallery, including several cast and behind the scenes photos, following the official synopsis for the episode below:
We've been here before – but what if this wasn't the modern day but the late Victorian period? What if the world's most famous consulting detective and his best friend lived in a Baker Street of steam trains, hansom cabs, top hats and frock-coats?
Welcome to Sherlock in 1895!
Some things, though, remain reassuringly the same. Friendship, adventure and especially, MURDER…
Why is Thomas Ricoletti a little surprised to see his wife dressed in her old wedding gown? Because, just a few hours before, she took her own life…
Mrs Ricoletti's ghost now appears to be prowling the streets with an unslakeable thirst for revenge.
From fog-shrouded Limehouse to the bowels of a ruined church, Holmes, Watson and their friends must use all their cunning to combat an enemy seemingly from beyond the grave and the final, shocking truth about… the Abominable Bride!"
Follow @ScreenSpy on Twitter | ScreenSpy on Facebook for more Sherlock scoop.
The Abominable Bride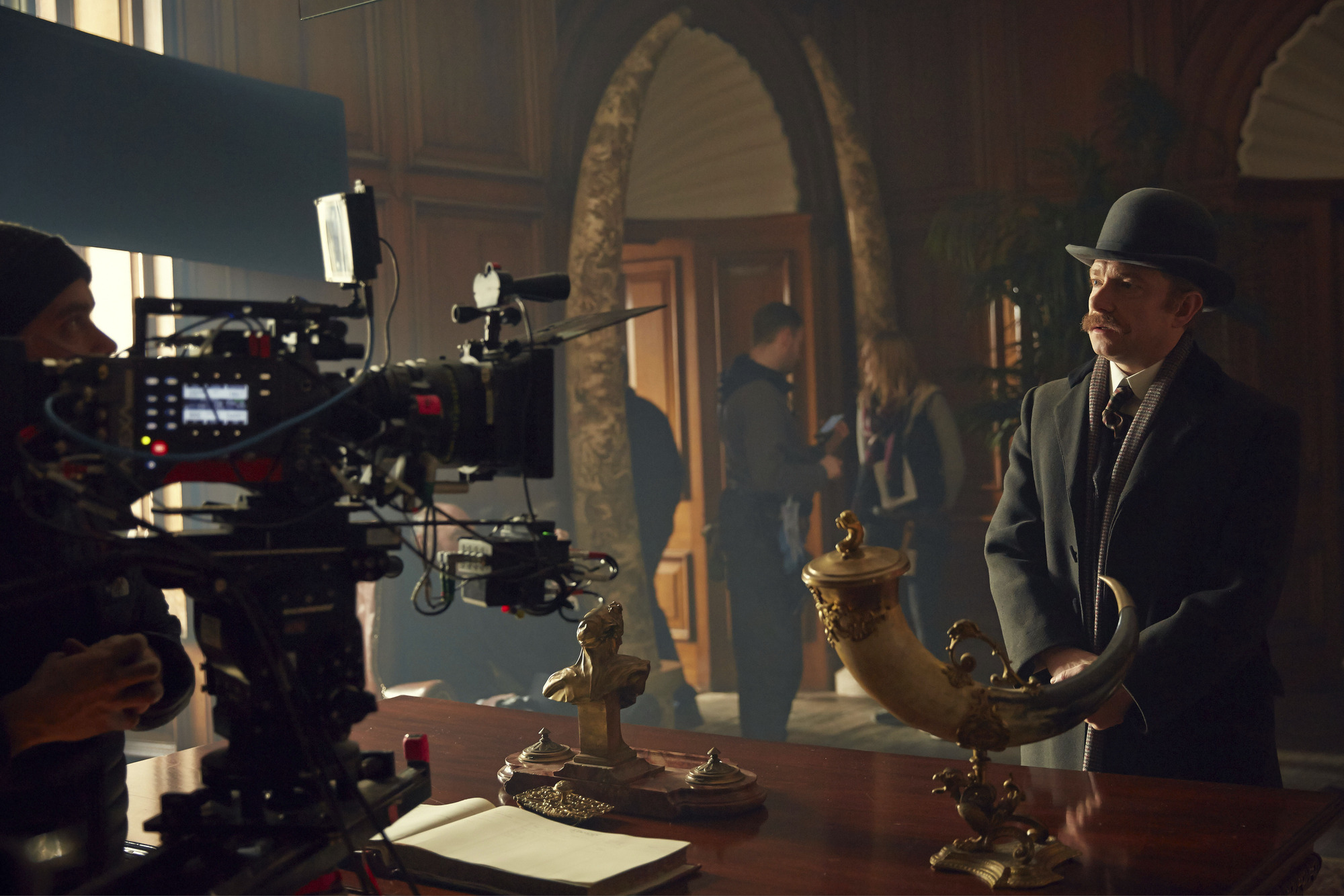 Picture 1 of 63
WARNING: Embargoed for publication until 00:00:01 on 24/11/2015 - Programme Name: Sherlock - TX: 01/01/2016 - Episode: The Abominable Bride (No. 1) - Picture Shows: **STRICTLY EMBARGOED FOR PUBLICATION UNTIL 24TH NOVEMBER 2015** Dr John Watson (MARTIN FREEMAN) - (C) Hartswood Films - Photographer: Robert Viglasky