THE WALKING DEAD Season 9 Episode 1 "A New Beginning" Photos
BY

Jennifer Griffin

Published 4 years ago
The Walking Dead returns for what might be its most contentious season to date on Oct. 7.
The first episode of the season will see a time jump of almost two years, in which the inhabitants of Hilltop, Alexandria and the other settlements have reached an uneasy and brittle truce with Negan's saviors. Now behind bars, Negan bides his time, while Rick wonders if there will ever come a day where he can be trusted with freedom.
Meanwhile, as the community continues to rebuild, and strengthen ties, a new danger threatens to destroy everything they have worked for.
AMC teases the season ahead as follows:
It is a time of relative peace among the communities as they work together, looking to the past to forge the future, but the world they knew is rapidly changing as man-made structures continue to degrade, and nature takes over, changing the landscape and creating new challenges for our survivors.

As time passes, the communities confront unexpected obstacles, danger, and of course, walkers, but nothing quite prepares them for the formidable force they are about to encounter, which threatens the very idea of civilization that our survivors have worked so hard to build.
Meanwhile, as series leads Andrew Lincoln and Lauren Cohen prepare to depart the series, new characters will step up in leadership roles, potentially altering the DNA of the show in surprising new ways.
Norman Reedus, who plays fan favorite Daryl Dixon described the changes ahead as follows: "It's a different kind of season. We are under new leadership. This season feels more in step in the direction we always thought we'd be heading. It's super fun. It's a different vibe."
RELATED | "Cowboys and Zombies: The Walking Dead's Andrew Lincoln On Saying Goodbye to the Series
AMC has released a pretty good collection of photos from the season 9 premiere, which we have to share with you below.
The Walking Dead returns Sunday, Oct. 7 at 9/8c on AMC.
Follow our official Twitter @ScreenSpy for more Walking Dead scoop this season.
Seth Gilliam as Father Gabriel Stokes, Pollyanna McIntosh as Jadis/Anne, Andrew Lincoln as Rick Grimes, Danai Gurira as Michonne, Alanna Masterson as Tara Chambler - The Walking Dead _ Season 9, Episode 1 - Photo Credit: Jackson Lee Davis/AMC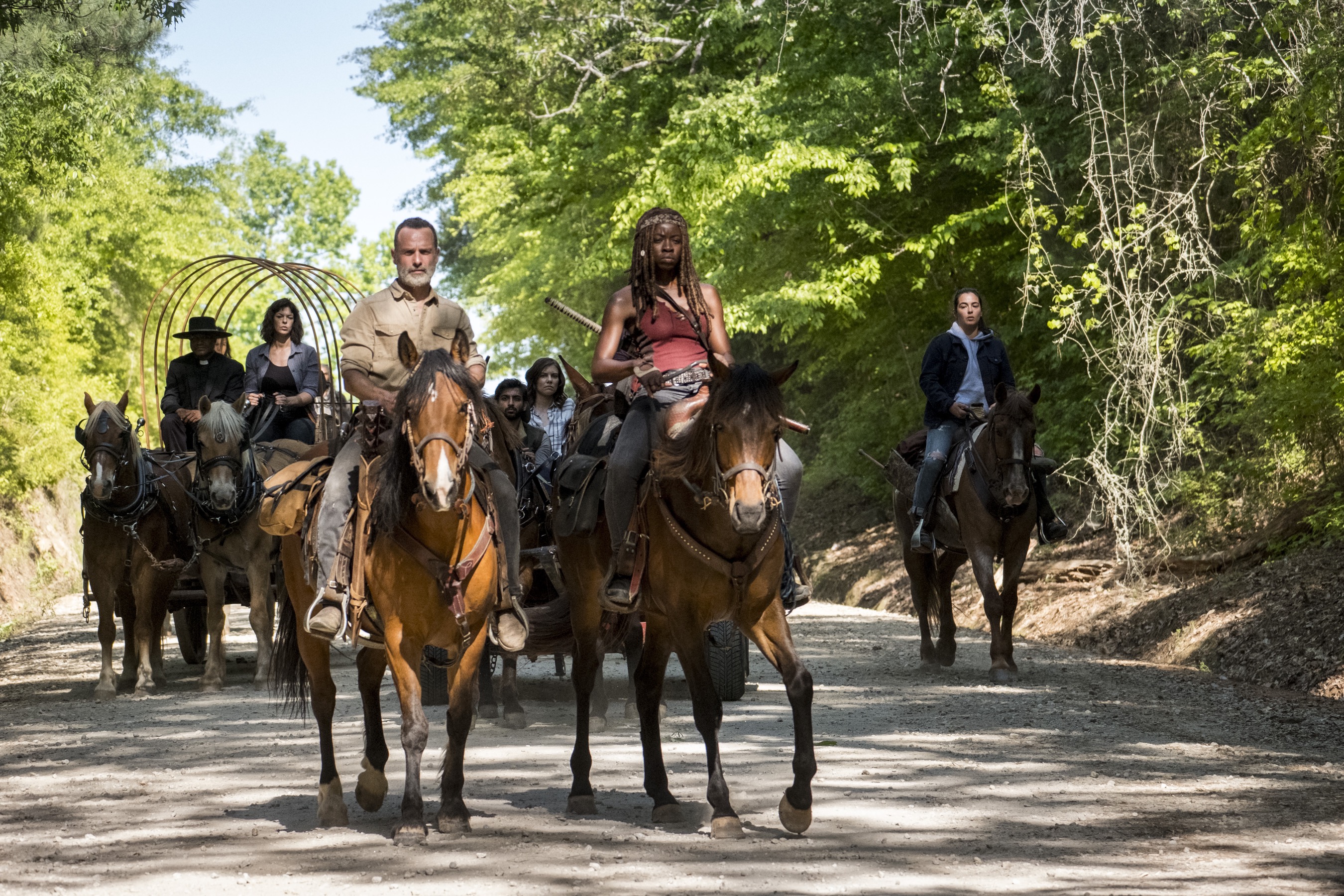 American Horror Story Apocalypse Episode 1 Recap
READ NEXT