WESTWORLD: Dolores Will Be Caught Up in a Bounty Hunt Through the Badlands
BY

Jennifer Griffin

Published 5 years ago
Next week's episode of Westworld is set to continue Dolores' (Evan Rachel Wood) strange odyssey as she encounters newcomers William (Jimmi Simpson) and Logan (Ben Barnes) and takes part in a a bounty hunt through the badlands where Teddy (James Marsden) was last seen alive.
Remember that bit last week about how the trusty sidekick always gives his life to save the hero, making the guests' adventure that little bit more special? If that trope holds true in this latest badlands adventure we're guessing Teddy may have already kicked the bucket.
Again.
Of course, Dolores, determined to find and rescue her amnesiac sweetheart, has yet to discover Teddy's likely grim fate.
And while the soon to be married William may have spurned the obvious advances of Maeve and Clementine back at Sweetwater, we don't need to see this photo of him offering the rancher's daughter his coat (but go ahead and look anyway) to know Dolores holds a special fascination for him. Dolores might just represent William's grand adventure, but we know her thoughts lie in a very different direction.
Meanwhile, The Man in Black (Ed Harris) is back this Sunday, and with indentured servant/guide Lawrence (Clifton Collins, Jr.) in tow, the pair find a critical clue in his search to unlock the maze.
Back in the lab, Dr. Ford (Anthony Hopkins) and Theresa (Sidse Babett Knudsen) discuss the future of the park, and in Sweetwater Maeve (Thandie Newton) continues to be troubled by a recurring vision.
The "Dissonance Theory" episode of Westworld airs Sunday Oct. 23 (9:00-10:00 p.m.) on HBO.
But if you can't wait that long, we've got some new photos from the episode to share in our gallery below. (We'll update with a handful of embargoed pics after Sunday's airing.)
Follow @ScreenSpy on Twitter | ScreenSpy on Facebook for more Westworld scoop.
WESTWORLD: "Dissonance Theory"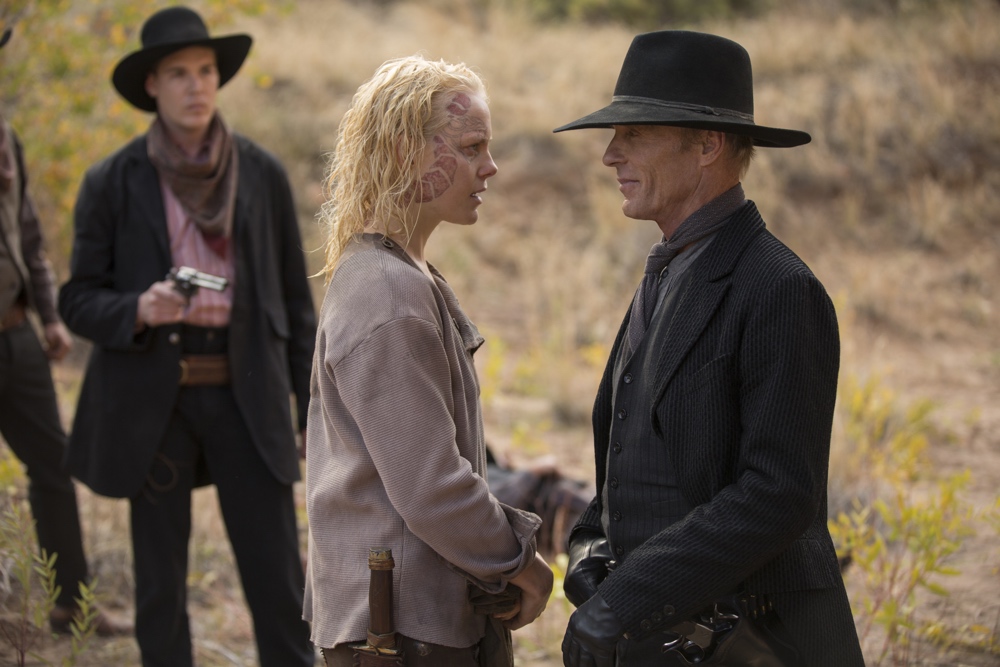 CHICAGO PD Season 4 Episode 6 "Some Friend" Photos
READ NEXT