Don't Miss
// SC: Addition start ?> // SC: Addition end ?>
//SC: Additions start ?> //SC: Additions end ?>
MAGNUM PI Episode 1×10 "Bad Day to Be a Hero" Photos
Magnum PI Episode 1×10 "Bad Day to be a Hero"
MAGNUM MUST HELP RICK'S CRUSH AFTER HER ILLEGAL POKER GAME IS ROBBED BY MASKED GUNMEN
Magnum must help Rick's crush, Toni (guest star Jamie-Lynn Sigler), after her illegal poker game, organized to pay back a mob debt, is robbed by masked gunmen.
Corbin Bernsen guest stars as Icepick, an incarcerated father-type presence in Rick's life.
Cast: Jay Hernandez (Thomas Magnum), Perdita Weeks (Juliet Higgins), Zachary Knighton (Orville "Rick" Wright), Stephen Hill (Theodore "TC" Calvin), Tim Kang (Det. Gordon Katsumoto).
Guest cast: Corbin Bernsen (Icepick), Jamie-Lynn Sigler (Toni), Hahn Cho (Russell Chang), James Chan (Philip), Mark Ah Sing (Akamu), Rich Ceraulo Ko (Charley Franks), Suzen Murakami (Mrs. Franks), John Quincy Adams (Captain), Kawika Smith (Pascale Parata), Peter Jang (Terry Kanaraot), Matt Mullins (Mike Davis).
Written by Ashley Charbonnet.
Directed by Lin Oeding.
Air Date: Monday, Dec. 10(9:00-10:00 PM, ET/PT) on the CBS Television Network.
MAGNUM P.I.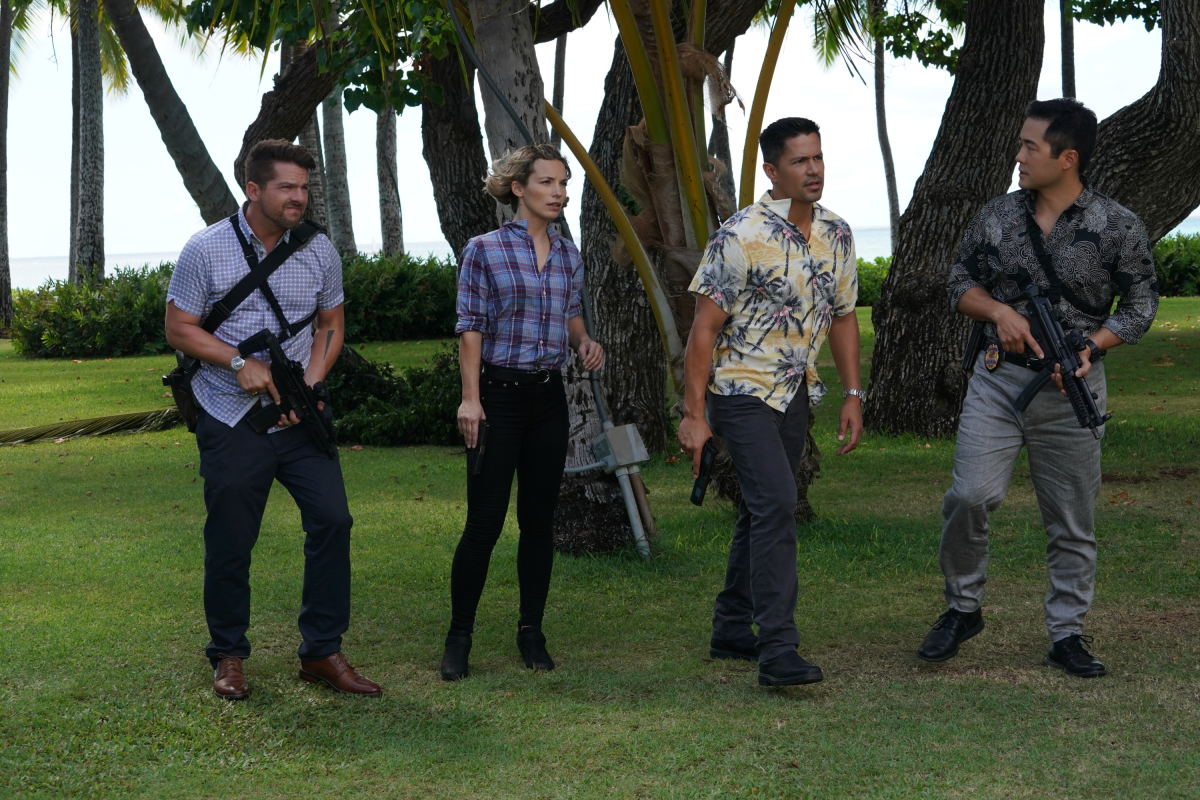 Picture 1 of 8
"Bad Day to be a Hero" - Magnum must help Rick's crush, Toni, (guest star Jamie-Lynn Sigler) after her illegal poker game, organized to pay back a mob debt, is robbed by masked gunmen, on MAGNUM P.I., Monday, Dec 10 (9:00-10:00 PM, ET/PT) on the CBS Television Network. Pictured L-R: Zachary Knighton as Orville 'Rick' Wright, Perdita Weeks as Juliet Higgins, Jay Hernandez as Thomas Magnum, and Tim Kang as Det. Gordon Katsumoto Photo: Karen Neal/CBS ©2018 CBS Broadcasting, Inc. All Rights Reserved
Hottest Stories from Around the Web