ELEMENTARY Season 4 Episode 10 IMAGES: "Alma Matters"
BY

Jennifer Griffin

Published 7 years ago
We knew it had to happen sooner or later.
Elementary's Morland Holmes has swept too many secrets under the rug for his relationship with estranged son Sherlock to ever find firmer ground, despite their recent goodwill towards one another.
Now in the show's January 29th episode we will see that tentative thaw between both men suffering a major setback when Sherlock and Joan discover that Mr. Holmes Senior has been keeping one particular secret that threatens all of their safety.
Will Sherlock and Joan be forced to step in and save Morland from his own dodgy business practices, or will this be the tipping point that finally drives Morland from New York?
Either way, it looks like this particular father/son relationship is on a course for a major reset.
We also hear that in the case of the week, our sleuthing duo will set about investigating a double murder connected to a for-profit college and its illegal recruitment practices.
The "Alma Matters" episode of Elementary airs Thursday, Jan. 28 (10:00-11:00 PM, ET/PT) on the CBS Television Network.
Follow @ScreenSpy on Twitter | ScreenSpy on Facebook for more Elementary scoop and interviews.
Elementary stars Jonny Lee Miller as Sherlock Holmes, Lucy Liu as Joan Watson, Aidan Quinn as Captain Tommy Gregson, Jon Michael Hill as Detective Marcus Bell and John Noble as Morland Holmes.
ELEMENTARY: "Alma Matters"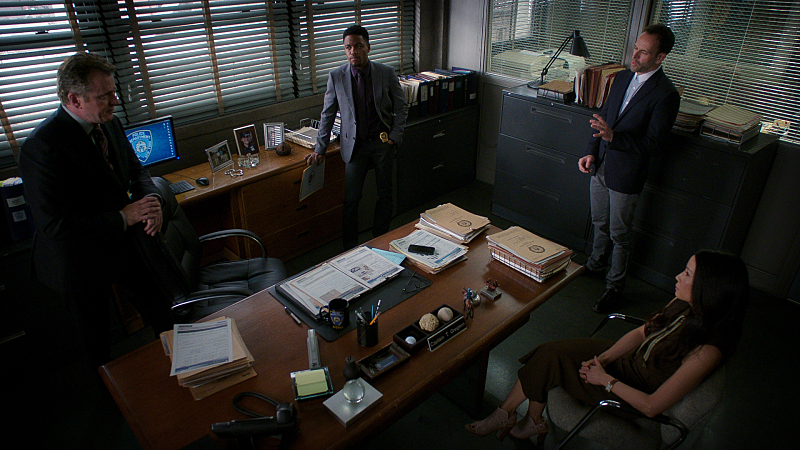 THE FLASH Review: "Potential Energy" Misses the Mark
READ NEXT