MAGNUM PI Episode 2×03 "Knight Lasts Forever"
HIGGINS AND KUMU ARE IN DANGER WHEN ROBIN'S NEST IS UNDER SEIGE BY MERCENARIES
Kumu and Higgins are in danger when Robin's Nest is under siege by mercenaries storming the estate in order to find out the true identity of the White Knight, Robin's muse and literary hero.
Also, Rick and T.C. helps one of Rick's employees (guest star WBC Heavyweight Champion Deontay Wilder) when his car is stolen, and Higgins finally gives Magnum an answer about if she'll become his partner.
Cast: Jay Hernandez (Thomas Magnum), Perdita Weeks (Juliet Higgins), Zachary Knighton (Orville "Rick" Wright), Stephen Hill (Theodore "TC" Calvin), Tim Kang (Det. Gordon Katsumoto), Amy Hill (Kumu).
Recurring cast: Christopher Thornton (Kenny "Shammy" Shamberg).
Guest cast: Deontay Wilder (Noah), Bre Blair (Lina), BJ Britt (Sam), Martin De Boer (Gunman #2), Adam Hart (Gunman #3), Tim Sitarz (Gunman #4), Dustin McEwen (Gunman #5), Dayne Catalano (Evan Butler), Andrew Kamoku (Salesman).
Written by Neil Tolkin.
Directed by Eagle Egilsson.
Air Date: Friday, Oct. 11 (9:00-10:00 PM, ET/PT) on the CBS Television Network.
Magnum P.I.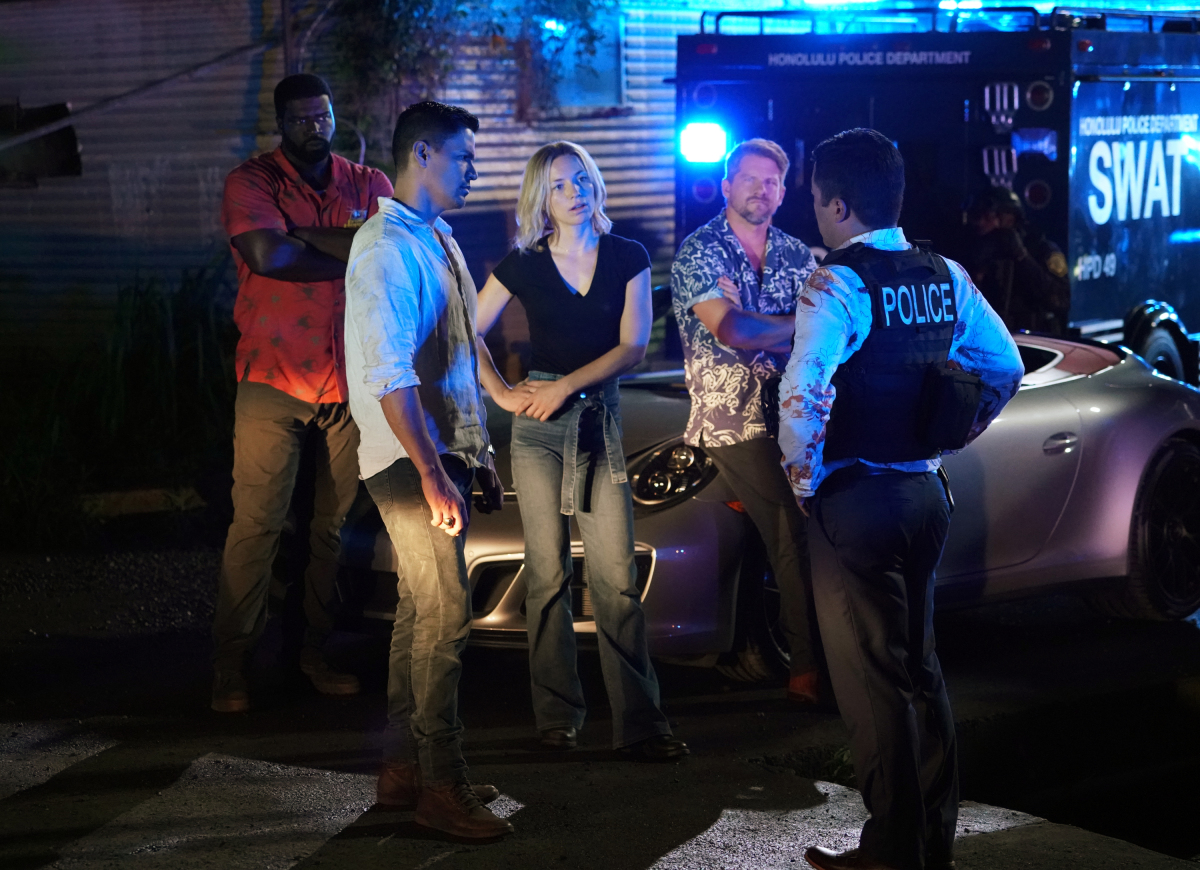 Picture 1 of 19
"Knight Lasts Forever" - Kumu and Higgins are in danger when Robin's Nest is under siege as mercenaries storm the estate in order to find out the true identity of Robin's muse and literary hero, the White Knight. Also, Rick and T.C. must help one of Rick's employees (guest star WBC Heavyweight Champion Deontay Wilder) when his car is stolen and Higgins finally gives Magnum an answer on whether she will become his partner, on MAGNUM P.I., Friday, Oct 11 (9:00-10:00 PM, ET/PT) on the CBS Television Network. Pictured L-R: Stephen Hill as Theodore 'TC' Calvin, Jay Hernandez as Thomas Magnum, Perdita Weeks as Juliet Higgins, Zachary Knighton as Orville 'Rick' Wright, and Tim Kang as Det. Gordon Katsumoto Photo: Karen Neal/CBS ©2019 CBS Broadcasting, Inc. All Rights Reserved