Magnum PI Episode 2×05 "Make it 'Til Dawn"
ON HALLOWEEN, MAGNUM AND JIN SEARCH FOR A SKIP-TRACER AT A HALLOWEEN BASH
On Halloween, Magnum and Jin (guest star Bobby Lee) search for a skip-tracer at a Halloween bash, just as Katsumoto tracks an escaped killer who is headed to that same party.
Also, Higgins and Rick must spend the night at an allegedly haunted house in order to debunk the notion, and TC and Kumu protect a sacred Hawaiian burial ground.
Cast: Jay Hernandez (Thomas Magnum), Perdita Weeks (Juliet Higgins), Zachary Knighton (Orville "Rick" Wright), Stephen Hill (Theodore "TC" Calvin), Tim Kang (Det. Gordon Katsumoto), Amy Hill (Kumu).
Recurring cast: Boby Lee (Kim).
Guest cast: Hayden Szeto (Pono Palima), Dan Southworth (Kanoa), Shane Miyashiro (Uni), Zane Rawlins (Skeleton Boy), Raiden Barrientos (Younger Boy), Eve Brenner (Helen), Alexa Luczak (Mermaid), Ryder Tadaki (Pono's Son), Kordell Kekoa (Kahu).
Written by Gene Hong & Tera Tolentino. Directed by Bryan Spicer.
Air Date: Friday, Oct. 25 (9:00-10:00 PM, ET/PT) on the CBS Television Network.
Magnum P.I.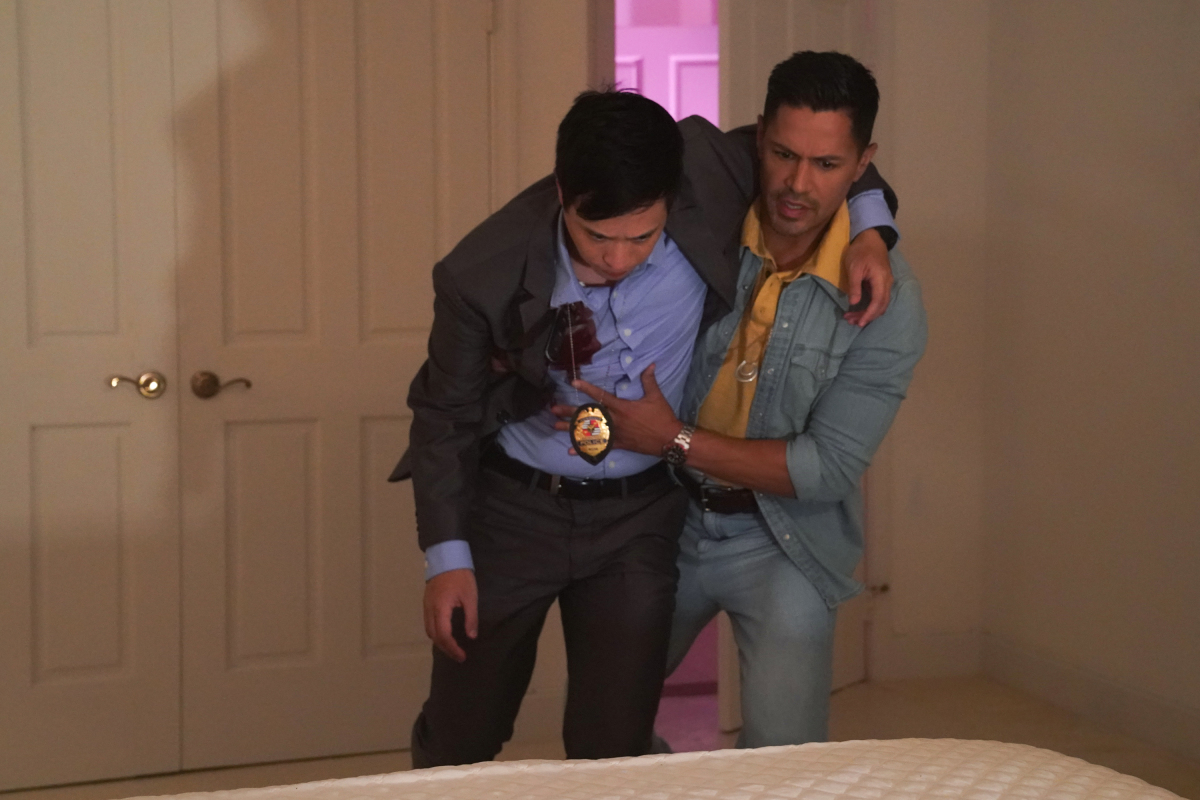 Picture 1 of 6
"Make It 'Til Dawn" - On Halloween, Magnum and Jin (guest star Bobby Lee) search for a skip-tracer at a Halloween bash, just as Katsumoto tracks an escaped killer who is headed to that same party. Also, Higgins and Rick must spend the night at an allegedly haunted house in order to debunk the notion and TC and Kumu protect a sacred Hawaiian burial ground, on MAGNUM P.I., Friday, Oct. 25 (9:00-10:00 PM, ET/PT) on the CBS Television Network. Pictured L-R: Hayden Szeto as Pono Palima and Jay Hernandez as Thomas Magnum Photo: Karen Neal/CBS ©2019 CBS Broadcasting, Inc. All Rights Reserved