NCIS Season 16 Episode 21 "Judge, Jury …" Photos
BY

Alan Mann

Published 3 years ago
NCIS Episode 16×21 "Judge, Jury …"
KASIE SOLVES A 30-YEAR-OLD COLD CASE
After entering cold case DNA into the system, Kasie solves a 30-year-old murder case, but a loophole in the legal system may set the suspect free.
Also, McGee visits an elite technology company in Silicon Valley that is offering him a highly paid position.
Cast: Mark Harmon (NCIS Special Agent Leroy Jethro Gibbs), Sean Murray (NCIS Special Agent Timothy McGee), Emily Wickersham (NCIS Special Agent Eleanor "Ellie" Bishop), Wilmer Valderrama (NCIS Special Agent Nicholas "Nick" Torres), Maria Bello (NCIS Special Agent Jaqueline "Jack" Sloane), Brian Dietzen (Dr. Jimmy Palmer), Diona Reasonover (Forensic Scientist Kasie Hines), Rocky Carroll (NCIS Director Leon Vance), David McCallum (Dr. Donald "Ducky" Mallard).
Written by Christopher J. Waild.
Directed by James Whitmore, Jr.
Air Date: Tuesday, April 30 (8:00-9:00 PM, ET/PT) on the CBS Television Network.
NCIS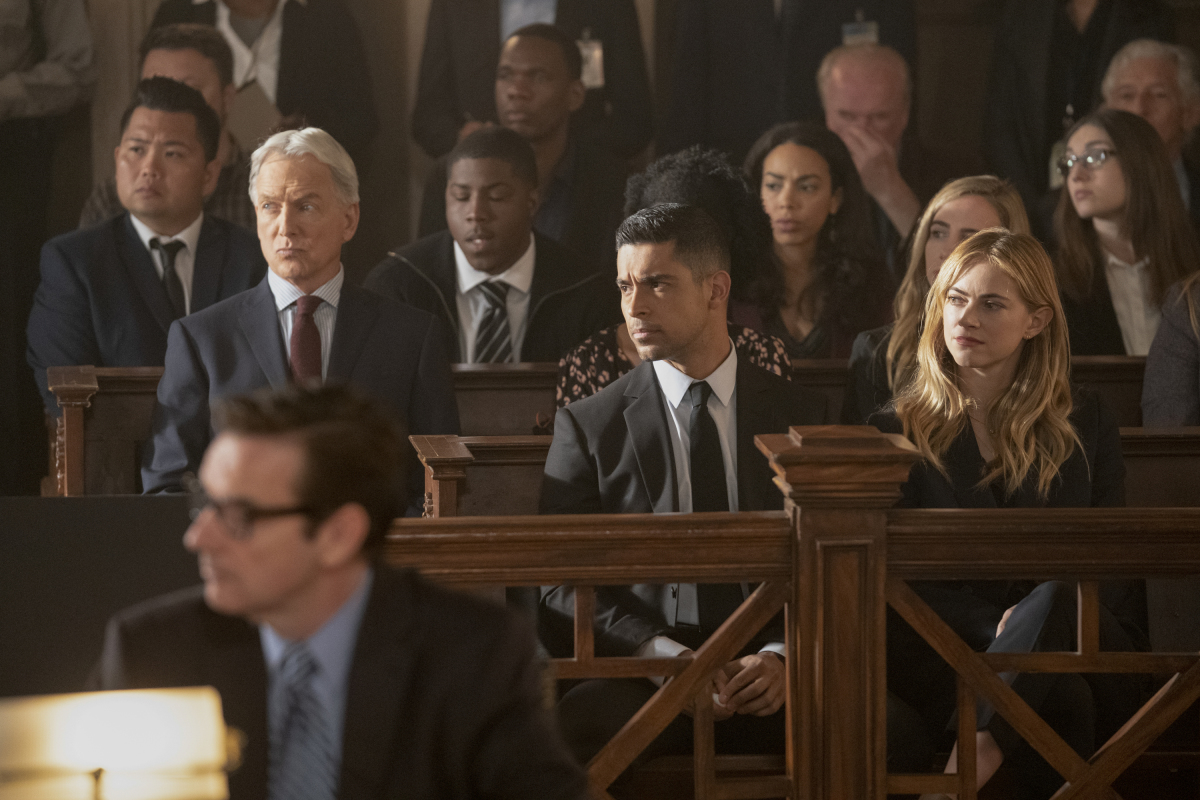 Picture 1 of 14
"Judge, Jury..." â€" After entering cold case DNA into the system, Kasie solves a 30-year-old murder case, but a loophole in the legal system may set the suspect free. Also, McGee visits an elite technology company in Silicon Valley that is offering him a highly paid position, on NCIS, Tuesday, April 30 (8:00-9:00 PM, ET/PT) on the CBS Television Network. Pictured: Mark Harmon as NCIS Special Agent Leroy Jethro Gibbs, Wilmer Valderrama as NCIS Special Agent Nicholas "Nick" Torres, Emily Wickersham as NCIS Special Agent Eleanor "Ellie" Bishop. Photo: Erik Voake/CBS ©2019 CBS Broadcasting, Inc. All Rights Reserved
NCIS Season 16 Episode 22 "And Executioner" Photos
READ NEXT