THE RESIDENT SERIES PREMEIRE
MEET THE DOCTORS AND STAFF OF CHASTAIN MEMORIAL HOSPITAL
On his first day as an intern, an idealistic DR. DEVON PRAVESH (Manish Dayal) faces the harsh realities of medical care, as third year resident DR. CONRAD HAWKINS (Matt Czuchry) takes him under his wing and teaches his unconventional ways for treating patients.
Meanwhile, Conrad goes head-to-head with Chief of Surgery DR. SOLOMON BELL (Bruce Greenwood), who uses power and intimidation to cover up his mistakes in the all-new "Pilot" special series premiere episode of THE RESIDENT airing Sunday, Jan. 21 (10:00-11:20 PM ET/7:00-8:20 PM PT) on FOX.
Cast: Matt Czuchry as Conrad Hawkins, Bruce Greenwood as Dr. Solomon Bell, Emily VanCamp as Nicolette, Manish Dayal as Devon Pravesh, Shaunette Renée Wilson as Mina Okafor, Merrin Dungey as Claire Thorpe, Melina Kanakaredes as Dr. Lane Hunter, Moran Atias as Renata Morali.
Guest Cast: Tasie Lawrence as Priya, Violett Beane as Lily Ahn, Tasso Feldman as Irving Levi, Michael Patrick Lane as Ross Evans, Elizabeth Faith Ludlow as Cara Ramirez, Alexa Mansour as Chloe Goddard, Coley Campany as Chloe's Mother, Danny Chung as Edmund Xu, Anna Harriette Pittman as Chloe's Sister, Tom Nowicki as Lyle Hancock, Jessica Miesel as Nurse Jessica, Karen Beyer as Mrs. Foster, Vince Foster as Paul Chu, Tequilla Whitfield as Cheryl Poole.
THE RESIDENT Series Premiere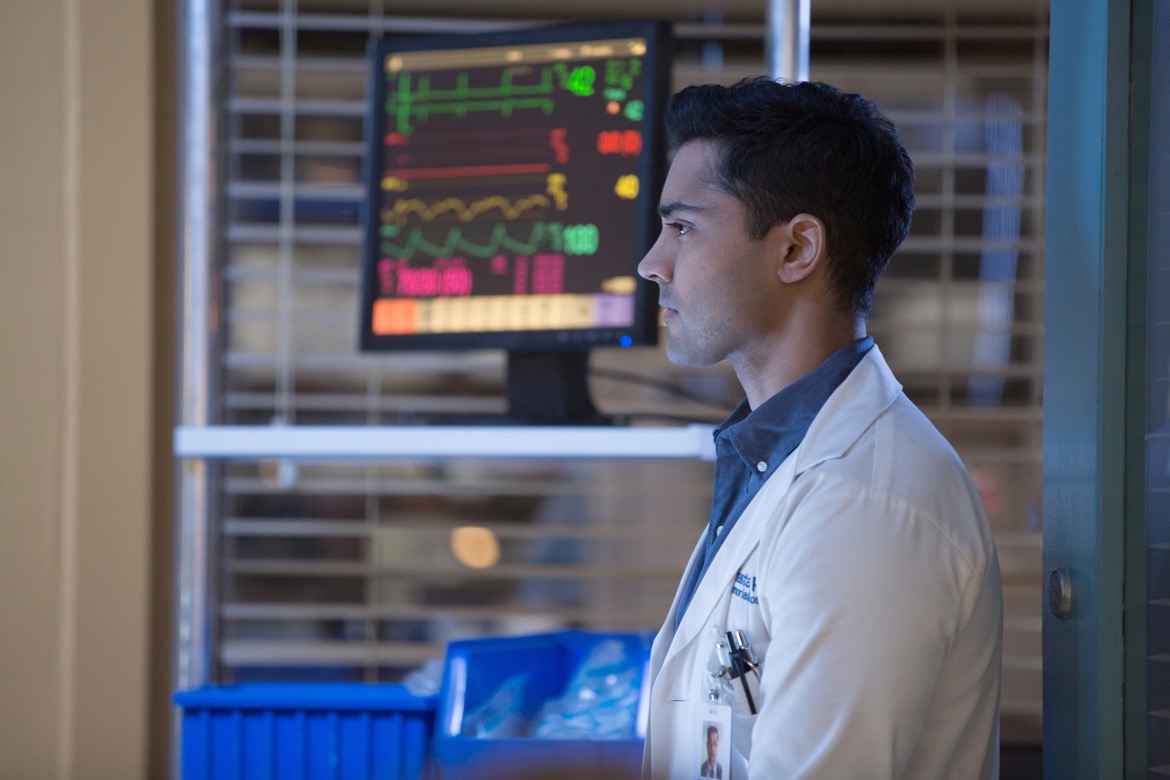 Picture 1 of 29
THE RESIDENT: Manish Dayal in THE RESIDENT premiering Sunday, Jan. 21 (10:00-11:00 PM ET/7:00-8:00 PM PT), following the NFC CHAMPIONSHIP GAME, and making its time period premiere on Monday, Jan. 22 (9:00-10:00 PM ET/PT). on FOX. ©2017 Fox Broadcasting Co. Cr: Guy D'Alema/FOX