SEAL TEAM Season 2 Episode 19 "Medicate and Isolate" Photos
BY

Alan Mann

Published 4 years ago
SEAL Team Episode 2×19 "Medicate and Isolate"
A FORMER NAVY SEAL CONTINUES TO STRUGGLE WITH HIS MENTAL HEALTH
While Bravo Team is on a recovery mission in Mali, their friend, former Navy SEAL Brett Swan (Tony Curran), continues to struggle with his mental health.
Cast: David Boreanaz (Jason Hayes), Max Thieriot (Clay Spenser), Neil Brown Jr. (Ray Perry), AJ Buckley (Sonny Quinn), Toni Trucks (Lisa Davis), Jessica Paré (Mandy Ellis), Judd Lormand (Lieutenant Commander Eric Blackburn).
Recurring cast: Tyler Grey (Trent).
Guest cast: Randy Ryan (Homeless Vet), Peter Murnik (Dr. Wilson), Tony Curran (Brett Swan), Julian Silver (Receptionist), Liz Jenkins (June), Tamala Jones (Miller), Joanna Bacalso (Christine), Kristy Swanson (Julia Logan), Jean Glaudé (Vietnam Vet).
Written by Spencer Hudnut & Kenny Ryan & Jacob Roman.
Directed by Ruben Garcia.
Air Date: Wednesday, April 24 (10:00-11:00 PM, ET/PT) on the CBS Television Network.
SEAL TEAM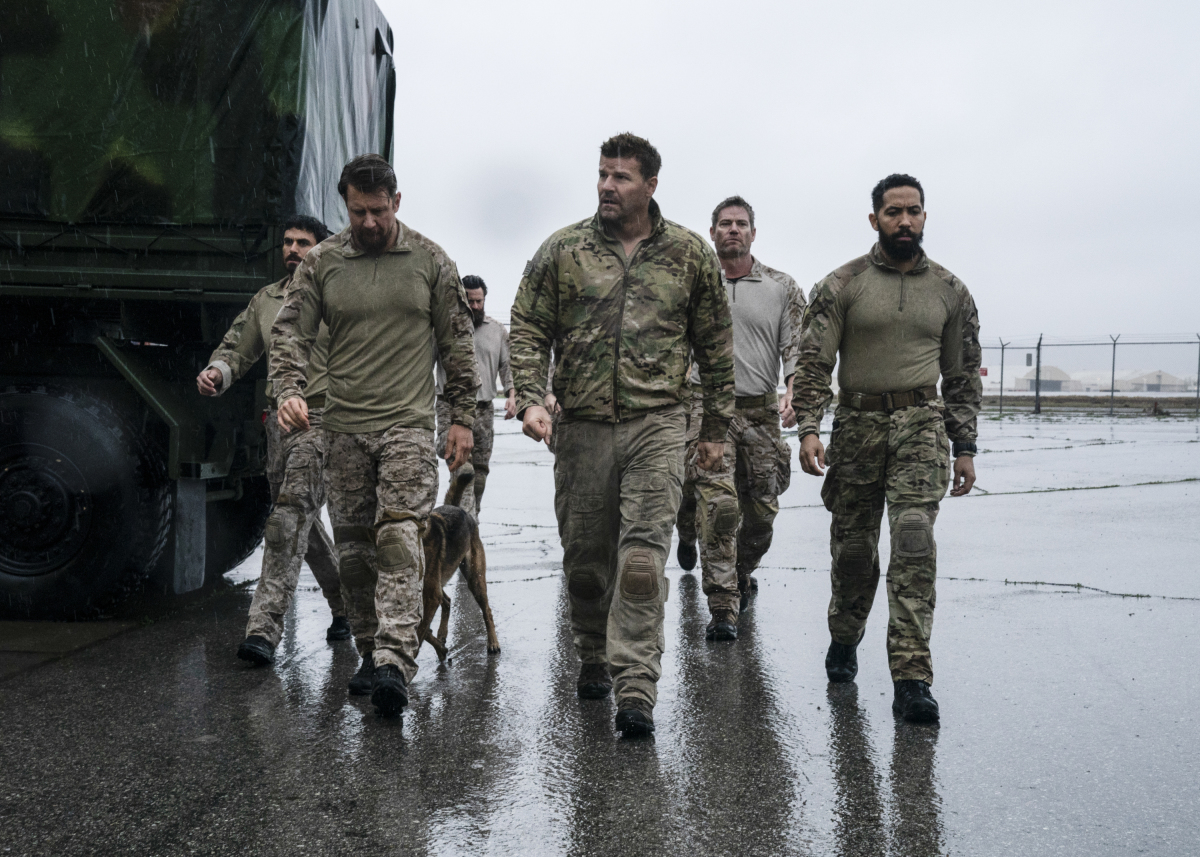 Picture 1 of 22
"Medicate and Isolate" -- While Bravo Team is on a recovery mission in Mali, their friend, former Navy SEAL Brett Swan (Tony Curran), continues to struggle with his mental health, Wednesday, April 24 (10:00-11:00 PM, ET/PT) on the CBS Television Network. Pictured L to R: Justin Melnick as Brock, Tyler Grey as Trent, David Boreanaz as Jason Hayes and Neil Brown Jr. as Ray Perry. Photo: Warrick Page/CBS ©2019 CBS Broadcasting, Inc. All Rights Reserved
SEAL TEAM Season 2 Episode 20 "Rock Bottom" Photos
READ NEXT