Magnum PI Episode 1×20 "The Day it all Came Together"
SEASON ONE FINALE
HANNAH, MAGNUM'S FUGITIVE EX, RETURNS TO ASK HIM FOR HELP FINDING HER MISSING CIA FATHER
Hannah (guest star Jordana Brewster), Magnum's ex and the fugitive responsible for him and his SEAL team brothers being POWs for years, shows up at his home with a gunshot wound, and wanting his help to find her missing CIA father whose life is in danger.
Also, Magnum makes an earnest proposition to Higgins for her to become his private investigations partner.
Brian Austin Green guest stars as Special Agent Adam Kreshner.
Cast: Jay Hernandez (Thomas Magnum), Perdita Weeks (Juliet Higgins), Zachary Knighton (Orville "Rick" Wright), Stephen Hill (Theodore "TC" Calvin), Tim Kang (Det. Gordon Katsumoto).
Recurring cast: Jordana Brewster (Hannah), Kimee Balmilero (Dr. Noelani Cunha).
Guest cast: Jordan Salud (William), Brian Austin Green (Special Agent Adam Kreshner), Jonathan Ohye (Special Agent Scott Larkin), Jo Sung (Pak Jong Soo), Darren Darnborough (Tyler Dotson), Michael Bisping (Jason Coburn), Michael De Ycaza (Hannah's Father), Jeremy Gilbert (Pilot), Brennan Dyson (Merc #1).
Written by Peter M. Lenkov & Eric Guggenheim.
Directed by Bryan Spicer.
Air Date: Monday, April 1 (9:00-10:00 PM, ET/PT) on the CBS Television Network.
MAGNUM P.I.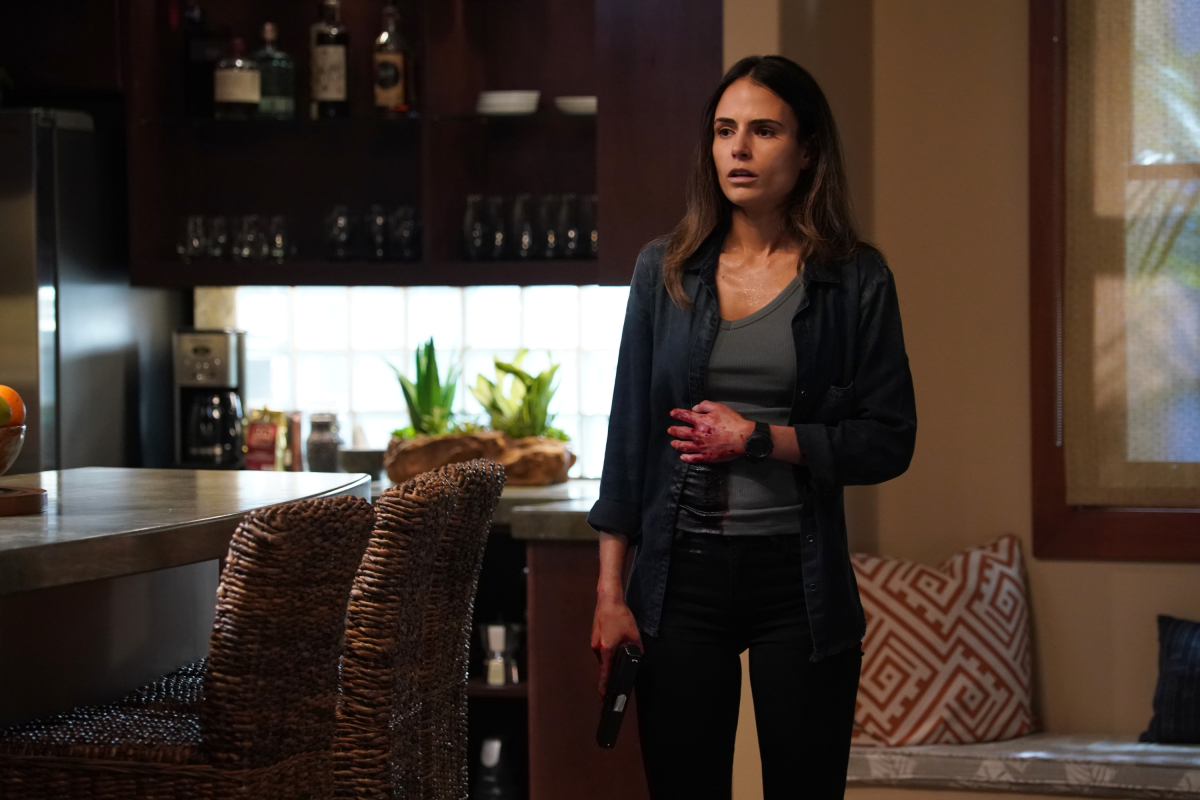 Picture 2 of 22
"The Day It All Came Together" - Hannah (guest star Jordana Brewster), Magnum's ex and the fugitive responsible for him and his SEAL team brothers ending up as POWs for years, shows up at his home with a gunshot wound needing his help to find her missing CIA father whose life is in danger. Also, Magnum makes an earnest proposition to Higgins for her to become his private investigations partner, on the first season finale of MAGNUM P.I., Monday, April 1 (9:00-10:00 PM, ET/PT) on the CBS Television Network. Photo: Karen Neal/CBS ©2019 CBS Broadcasting, Inc. All Rights Reserved