Hey Bones fans, we've got some details and images to share from the show's upcoming April 16 episode. (Aren't you so glad the show is back!)
In "The Putter in the Rough" the Jeffersonian team unravels an unexpectedly competitive world of mini-golf as they try to piece together the murder of the sport's superstar.
Meanwhile, Brennan is worried her father Max (guest star Ryan O'Neal) is reverting to his criminal tendencies and "squintern" Wendell Bray (guest star Michael Grant Terry) enlists Hodgins to help him fix his girlfriend's family heirloom.
"The Putter in the Rough" airs Thursday, April 16 (8:00-9:00 PM ET/PT) on FOX.
Bones stars Emily Deschanel as Dr. Temperance Brennan; David Boreanaz as FBI Special Agent Seeley Booth; TJ Thyne as Dr. Jack Hodgins; Michaela Conlin as Angela Montenegro; Tamara Taylor as Dr. Camille "Cam" Saroyan; John Boyd as FBI Special Agent James Aubrey
Guest cast includes Michael Grant Terry as Wendell Bray; Ryan O'Neal as Max Keenan; Carlos Alazraqui as Sammy Tucker; Arden Myrin as Lori Tucker; Shalita Grant as Andie Roberts; Chris Marrs as Jake Carter; Eric Allan Kramer as Eric Simms; Alexandra Nicole Frnka as Darla Simms; Gary Ballard as Hollis Pepall; Sunnie Pelant as Christine Booth; Drew B. Waters as Winston Scruggs.
BONES: "The Putter in the Rough"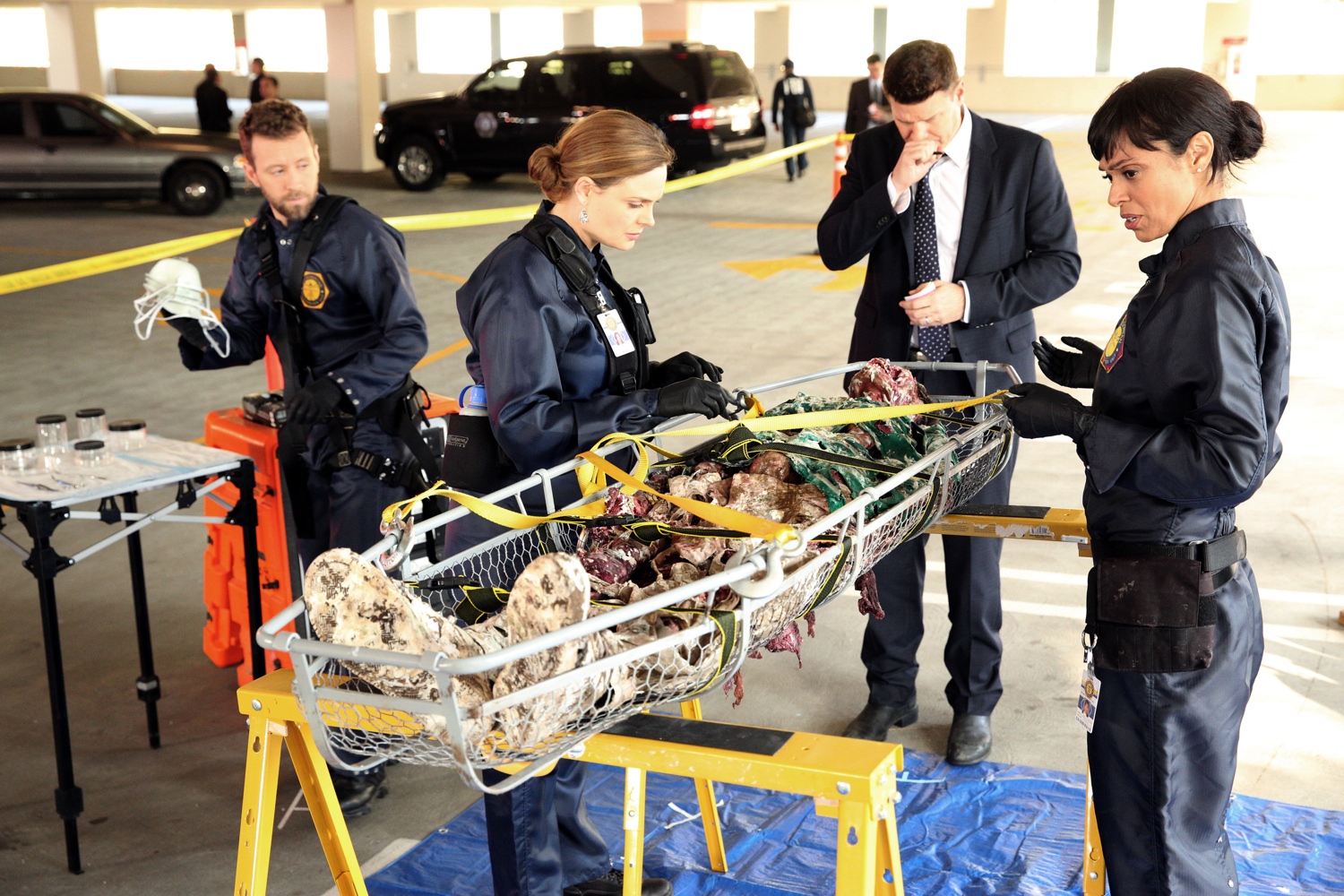 Picture 1 of 7
BONES: Brennan (Emily Deschanel, second from L), Booth (David Boreanaz, second from R), Hodgins (TJ Thyne, L) and Cam (Tamara Taylor, R) examine the remains of a professional mini-golfer in the "The Putter In The Rough" episode of BONES airing Thursday, April 16 (8:00-9:00 PM ET/PT) on FOX. ©2015 Fox Broadcasting Co. Cr: Adam Taylor/FOX